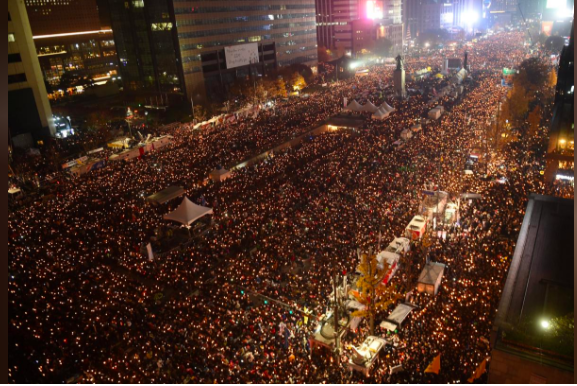 30 Sustainers in 30 Days Sustainer Drive to Fuel the Movement to Drive Out the Trump/Pence Regime
30 Sustainers by October 3
Will you become one 30 new RefuseFascism.org sustainers at a suggested amount of $15 a month to spread this movement to those looking for a real way to stop the Trump/Pence regime?
In the past 18 months the Trump/Pence regime has already done shocking damage: from Trump's Muslim Ban to his open encouragement of murderous white supremacists and Nazis; from his flippant threats of nuclear annihilation to his vile misogyny, threats against the media, shredding environmental regulations, taking away citizenship and even stealing, caging and torturing immigrant children. The Trump/Pence regime is radically remaking society – step by step hammering into place a vicious American fascism.  Nothing short of removing this whole illegitimate regime from power will stop this nightmare. There is a way to end this nightmare, through non-violent but sustained resistance but not nearly enough people know about the movement that is mobilizing to drive out this regime.
Become a sustainer today to help reach millions!
Driving out this regime only increases in urgency the longer they are in power and becoming "normalized."  This fall RefuseFascism.org needs to grow in size and organization; strengthening people's understanding and conviction.
With the nomination of Brett Kavanaugh, the Trump/Pence regime is poised to impose an extreme and long-lasting transformation of the highest court in this country—a major leap in the consolidation of fascism. The Democratic Party leadership just approved 15 Trump nominees to federal courts impacting generations. Faced with the profound danger of this regime we have two different roads are before us: One of further accommodation to harrowing crimes against the people, where people hope that Democratic party resists, although they have not done so for the past 18 months and just proved AGAIN with the approval of those judges they will not.  OR the road in which people join in mass struggle in the STREETS, take courageous action and build strength and resolve to drive out whole regime.
Which road people take and the future we get is up to us and what we do now. Millions still hate what this regime is doing, but too few know that there is a way to stop a Fascist USA or think the Democrats and Mueller will provide the answer. Those millions of people will never know they are the ones that can refuse fascism and drive out this regime unless supporters like YOU bring it to them.
Become a sustainer and you will bring this movement to fall festivals, town squares, to where representatives of this regime dare to show their faces, to social media feeds. Your monthly donations will get RefuseFascism.org volunteers to flashpoints where this regime is doing particular harm to expose the crimes of this regime and rally people around the demand "Trump/Pence Must Go!" and how that can be done. On opening day of Kavanaugh confirmation hearings in Washington DC, inside the hearings, more than 30 protesters disrupted, including these two who shouted REFUSE FASCISM!
Importantly, as a sustainer you will bring this message and this movement to campuses across the country so that they can become alive with growing waves of resistance to this regime that can be sustained. We will not be able to drive out this regime without college students taking a big role. They need to know that tyrants have been driven from power this way before, all over the world, and there is no reason it can't happen here and they are needed.
When you sign up to sustain, you pledge, every month, to be part of ousting this regime.
Sustainers matter not only for the dollars that are brought in each month, but in the pledge that those people make to not stand aside and instead to stand with all of humanity, and struggle with all they have, so that the just demand "Trump/Pence Must Go!" is met.
Think about it…for the cost of a few cups of coffee you could support the only movement mobilizing to drive out this regime. You're only a click away —— sustain today!
Become a Sustainer:
>> Donate monthly via any credit/debit card
>> Donate monthly via Paypal
>> Donate monthly $100 or more through our fiscal sponsor, in which case your donation maybe be tax-deductible
Each dollar, each month, determines how many people know about RefuseFascism.org and become part of stopping a fascist USA.
RefuseFascism.org NO! beanie for you when you sustain at $15/month or more.
Messages From Sustainers