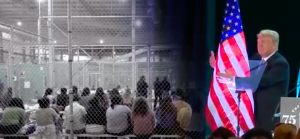 In a piece in The Independent titled "I'm nearly 100 years old, I saw the 1945 refugee crisis firsthand – and I need people to listen to my warning," Harry Leslie Smith writes:
"I cannot sit back in good conscience while the world my generation built is left to turn feral in the hands of right-wing populists and indifferent capitalists. Too many people died and too many lives were cut short or mangled by the Great Depression and the Second World War for me to accept that the architecture of fascism being built by Donald Trump along with demagogues in Europe and Asia should be allowed to go unchallenged."
And his article includes this alarm, that "Populism and fascism ride about the world stage like a victorious sports team in a city parade. The United States under Donald Trump cages refugee children, pulls out of the UN Council and uses dehumanising terms about other races; doing so has, from Nazi Germany to Rwanda, always been a harbinger of genocide."
Read the article here.