by Coco Das | 
I don't actually think most people who are supporting Beto are looking for post-partisan unity. They are looking for an answer, a way to oppose Trump and stop his regime and the Republican Party from gaining more ground. They are sickened by the cruelty on display and are hoping for a wave to sweep the country in the opposite direction.
Many people in Texas who hate the Trump/Pence regime have poured their hopes and energy into Beto O'Rourke's campaign against Ted Cruz. Hundreds of lawn signs all over my city say, simply, "BETO, for Senate." We've seen pictures of Beto's punk band from his youth, and Betomania is an actual word in frequent use.
He hasn't even won the Senate race yet, but enthusiasts are already imagining him on a presidential ticket for 2020. In a New York Times op-ed titled Save Us Texas, Michelle Goldberg wrote about how much Beto reminded her of Obama in 2008, "… and not just because of his gawky magnetism. Like Obama, O'Rourke is unapologetically progressive but offers a vision of post-partisan national unity."
I don't actually think most people who are supporting Beto are looking for post-partisan unity. They are looking for an answer, a way to oppose Trump and stop his regime and the Republican Party from gaining more ground. They are sickened by the cruelty on display and are hoping for a wave to sweep the country in the opposite direction.
REACHING ACROSS THE AISLE WHEN FASCISTS ARE SETTING THE TERMS
Yet it's true that when more progressive candidates come forward, the idea of post-partisan unity gets touted as an ideal. Many people who started out motivated by their deep opposition to the fascist crimes of the Trump/Pence regime find themselves falling for this bait-and-switch that leaves them celebrating such a unity. But let's examine what that means.
First of all, to the extent that there was post-partisan unity under Obama, it was a unity in the direction of fascism, a continuation of much of George W. Bush's foreign policy, a record number of deportations, and the expansion of executive power to serve the endless "war on terror." Meanwhile, what was the Tea Party and Trump himself doing during the Obama years? They were fighting like hell and using the same fascist tactics they are ruling with now, taking over the Republican Party, changing the rules, stoking their white supremacist, Christian fascist base with lies and fear-mongering, blocking judicial appointments, and staking their claim on every corner they could. They weren't playing nice and striving for "post-partisan unity." These are the fascists who are now in power, on a rampage against humanity and the planet.
Precisely at a moment when we desperately need a wave sweeping this country away from fascism, in the direction and the interests of humanity, we need to look soberly at where enacting a "resistance" through Beto, and the gamble of a Blue Wave, will actually lead us.
Watching the first debate between Beto and Ted Cruz, I was struck by the number of times Cruz succeeded in putting Beto on the defensive, not by sticking to any principles of truth or respect but, in typical fascist manner, by fear-mongering and boldly stating what he wanted his constituents to believe. In response, Beto had to continually clarify his views to appear more "moderate," backtrack on things he'd once said, refute the lies that Cruz was spewing, and show that he too was a champion for patriots, veterans, farmers, and ranchers. Throughout the debate, it was Cruz who set the terms and Beto who had to adjust, Beto who had to answer for what he said, Beto who had to move his argument further to the right, Beto who was made to look like the extremist, Beto who kept having to say, "I never said that." Not one time was Cruz forced to answer for his role as a stooge for a regime that is terrorizing immigrants and their children, accelerating climate change, destroying the separation of church and state, reducing women to breeders and incubators, and enabling a white supremacist militia mentality to run rampant – for actually destroying the world. And when Cruz accused Beto of promising to impeach Trump, Beto denied it, saying, "I'll work with anyone, anytime, anywhere, and that includes the president of the United States."
Whether or not Beto supporters are actually looking for post-partisan unity, the terms are set up so that it's all they can hope for, and all they can get. Several times during the debate, Beto said he would work with "the president" where he can and oppose him where he must. This is utterly meaningless, especially when the goalpost for what "must" be opposed keeps moving further and further away from what we actually want to accept. This is how fascism advances, and as the limits of what is normal continues to move further and further out, good people suddenly find themselves on the wrong side of history. While Democrats talk about being on the same team and reaching across the aisle, who is fighting for our interests and our future, which lies not with one ruling party or another but with the interests and future of all of humanity?
A STRATEGY FOR DEFEAT, A ROAD TO ACCOMMODATION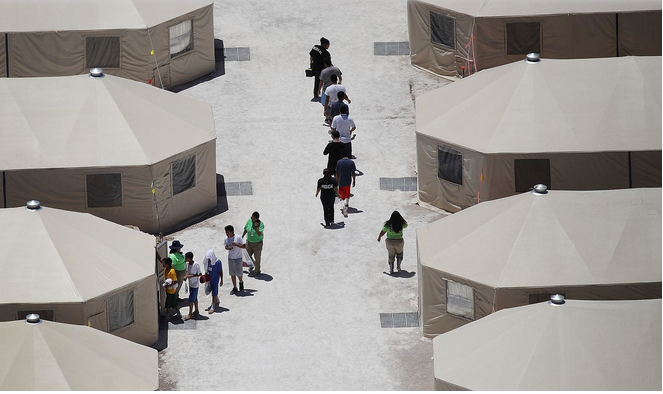 Earlier this summer, Beto led a Father's Day march and rally to Tornillo, Texas, the site of a tent city that was built to house migrant children who'd been separated from their parents – in other words, a concentration camp. At that time, a few hundred children were being held in Tornillo. Now it holds 1,500 children, and the attacks on immigrants have continued to escalate. Family members who come forward to claim the children are themselves threatened with detention and deportation, and people who were born in U.S. border towns are being denied American passports, effectively having their citizenship revoked. Beto pledged to demand an end to family separation, and what was the regime's answer to that? It was to hold families together in indefinite detention and prepare even more "beds" for the now nearly 13,000 unaccompanied minors whom they have no intention of releasing. After the Father's Day rally, Beto went back on the campaign trail, the protesters went home, and the regime went on with its plan. No further mass protests were called, no real demands made. Whatever struggle there was over the question fizzled out, and the children held in tent cities have largely fallen out of public consciousness. The question then needs to be asked: Did Betomania help people fight for those children, or forget about them?
We've seen this dynamic play out many times since the inauguration. Hundreds, thousands, even millions of people have come out in protest of one or another aspect of this regime's program. To have their voices heard. But what happens once the people have gathered for a mass protest such as the Women's March? They are told to go home and start doing the "real work" of voting, supporting candidates, and registering others to vote, channeling people's anger and anguish back into the electoral system. Many of these protests turn into campaign rallies for Democratic candidates, and even while telling you how much is at stake, they will feed you the illusion that voting is the only way to stop this. What are the slogans they put forward? Power to the Polls. November is coming. Vote them out. And after the midterms, the whole thing starts again with eyes on 2020, all while the regime rages on. What have we accepted already while everything got channeled into these midterm elections, and what will we be forced to accept by 2020?
Whatever Beto's purpose was for calling the Father's Day March, the effect was to send people home and work on getting him elected. All of these calls for electoral success rest on a fundamental refusal to name and confront the danger we are facing. That danger is an American fascism on a collision course with humanity, and voting is not even one way to stop that. Fascism can't be voted out, it must be driven out through an equally determined mass protest movement that will not be constrained by what is allowed under this system. Rather than follow the Democrats as they trail after the "center" that keeps hurtling farther and farther into a nightmare, we must draw and hold an uncompromising line against the whole fascist program and say NO! In the Name of Humanity, We REFUSE to Accept a Fascist America – and let them respond to that.
The Democratic Party is not a fascist party, but as a ruling party, it still has an interest in staying within the bounds of the system and not allowing their constituents to become too unruly. Right now, the opposition strategy of the Democrats is the Blue Wave. Whenever they are seen to make too many concessions to fascism, their excuse is that they don't have a majority in either house to make a difference. Give us a majority and then we'll … do what exactly? Criticize Trump from the right and take an even more belligerent stance toward North Korea? Approve an even more massive military budget ? Move to impeach Trump, which Nancy Pelosi has already said is not a priority and too divisive, despite the fact that the majority of Democratic constituents want Trump impeached? With nothing but the past record of Democratic opposition to fascism, going all the way back to the Clinton years, we have to recognize how unlikely it is that a Blue Wave will stop this fascist regime from advancing toward even greater horrors, and how likely it is that it will continue to accommodate to fascism…
UNLESS all of us who are more interested in justice than order step outside of those parameters, step outside of the rules, and bring things to a halt ourselves, causing a political crisis so profound that the system must find a resolution to satisfy the people's demands. Not just for a day and back to our lives, either… staying as long as it takes and growing to truly massive numbers that command the attention and inspire the hope of people all over the world. This kind of protest, of people in the streets non-violently but fiercely refusing to be governed, has driven out dangerous regimes within the last two years in South Korea and Armenia. Refuse Fascism has been developing the strategy and building the movement for doing this here, and there are many ways to get involved in this right now.
RAISING THIS DEMAND FAR AND WIDE: IN THE NAME OF HUMANITY, THE TRUMP/PENCE REGIME MUST GO!
Whether or not Beto wins, whether or not there is a Blue Wave, for everything that is under threat, we need to drive out this regime with non-violent protests that are not confined to acceptable limits and do not stop until our one clear demand is met. We in our millions need to be the force that draws that line for humanity. Only the people can do this, not through a proxy or representative from the Democratic Party but through our sheer determination to wrench a future worth living away from these monsters.
November is almost here, and after Election Day, we must be in the streets and get ready to launch the kind of sustained struggle that is needed to stop this catastrophe for humanity. It is not easy to go against the tide of what is considered "normal," but normal keeps moving to a place where we do not want to go anyway. If all of us decide to act on what we know is right instead of what we are told is possible, we have the power to change what is possible. In a world that is free of the Trump/Pence regime, the future will be unwritten.
Join nationwide protests right after Election Day.
Protest Wednesday, November 7  –  the day after midterms – and Protest Saturday, November 10. Find a protest here.