To all who stood up on July 15th – in 18 cities to say In the Name of Humanity, We REFUSE to Accept a Fascist America! and did so in several cities in the face of the hateful vitriol and in one case violence of the Trump Fascist ghouls, WE SALUTE YOU!
Hundreds, in several major cities, took to the streets and raised a unified demand:  THE TRUMP/PENCE REGIME MUST GO!   This signifies something new.  An organized force proposing a bold plan to demand that an entire regime be removed from power because it is fascist and what that would mean for the future of humanity and the planet.  Everyone who stepped out today, everyone who threw their heart into organizing for today should know, we have put this demand, the stand and organization of RefuseFascism.org on the map.
That matters. We said in the speech given in 18 cities today:
Video of Refuse Fascism Speech at New York Rally
"Today is the beginning of what must be a new stage of our struggle. There must be no illusions about what we face.  We must discuss, debate and struggle hard with each other to understand the tremendous necessity we face in confronting a regime in the most powerful country in the world that is hellbent on consolidating fascism.  Yes, it is an American Fascism – Manifest Destiny and American exceptionalism – a fascism wrapped in the Bible taken literally and the American flag, saturated with racism, misogyny, and xenophobia.
Read the Call to Action for July 15 >
"Going forward from today what we do and what we say must shatter the illusion and the self delusion that what we face is just another in long line of bad administrations, and that "checks and balances" of the system will prevail and rescue us.  NO! That would be a turning away from the situation we confront.
"The task before us is not just to strengthen our resistance, to find the ways our different struggles can come together. But, we must not fail to sound and then answer the alarm that what is at stake is even whether or not there will be the political, the legal and the civic space for dissent and resistance.  Already in state after state and at the Federal level they are moving to raise the stakes for dissent and protest. The rights and dignity of the people have no place in the program and coarsened heart of this regime.  NO! We must transform our struggle to be something far more serious, a struggle that can alter the course of history – driving out a regime that imperils us all."
In the Name of Humanity, We REFUSE to Accept A Fascist America!
The Trump/Pence Regime Must GO!
Read & Watch Messages from Endorsers of July 15 >
Some Sights and Sounds of July 15:
New York City
#J15TrumpPenceMustGo is kicking off in NYC right now. Get to 5th Ave asap and join the people in the streets! It's up to us! #NOFASCISTUSA pic.twitter.com/FNxZOZjcrN

— #TrumpPenceMustGo (@RefuseFascism) July 15, 2017
"I stand with protestors throughout the nation and the world in recognition that the Trump/Pence regime is anti-progress, anti-climate, anti-intellectual, and in fact anti human. The Trump/Pence regime is violent, brutal, amoral, divisive and clearly designed for the benefit and enrichment of the swamp creatures that we were promised would be excised from Washington. Hell no, we will not accept a fascist America!"
Arturo O'Farrill 07.15.17
Los Angeles

Close to 400 people rallied and marched. It was a very youthful and mixed crowd of different nationalities and the rally included a very compelling mix of speakers. Before the rally started, about 80 Nazi fascists gathered beforehand around Trump's Hollywood Boulevard star and one of them punched GrayWolf, the director of the Southern California American Indian Movement (AIM), scheduled to speak at the rally, in the face. He was later arrested, but other than this, these goons had little impact on the rally. Some protesters joined after seeing the rally as it began to shape up; many others had heard about it earlier and came with friends and family. There were lots of high school students and people in their 20s—fearless in the face of the Nazis, very enthusiastic about the protest, and eager to build the movement to drive out the fascist Trump/Pence regime.
There were people from different countries, including from Egypt, Mexico, Iran, China, France, and Germany. A significant number of LGBTQ people were in the crowd. The march and rally was very spirited—people seeing the need and wanting to take up the fight against the Trump/Pence regime and wrestling with what it will take to actually get rid of these fascists. At the end of the march, cardboard copies of Trump's Hollywood Boulevard star were passed out that had different crimes of the fascist regime printed on them, and people were encouraged to desecrate the star that the Nazis had sworn to defend.
San Francisco
Chicago
Atlanta
The demo started with a rally/speak-out in front of the Martin Luther King Jr. historic site. There were about 75 people that came for the rally, but hundreds of tourists stopped to listen to the rally and take pictures. The rally led to a march down the Beltline, a path that surrounds the city and has many hundreds of people walking and biking. The march ended in Piedmont Park. The crowd was diverse, including immigrants, students, Black and white, multi-aged. There were people there from the Impeach movement, many that came directly after the Women's March (which took place a few hours before our march). There were '60s people and some that came to perform street theatre, like Donna J. Trump, who impersonates and mocks Trump. Among those speaking were a Somali immigrant who is a refugee activist, and a woman who works with the Council on American-Islamic Relations (CAIR).
Washington D.C.
Notes from D.C.
In the morning, over 200 people came to a rally in front of the Department of Justice—this was a continuation of the protest called by organizers of the Women's March, which began yesterday at the National Rifle Association (NRA) headquarters in suburban Virginia. People marched 17 miles from there to the DOJ rally. There were very strong demands in relation to the fascist attack videos that the NRA had recently put out, and there were gun control advocates and people who had family members die from shootings. Linda Sarsour, Carmen Perez, and Tamika Mallory from the Women's March were among those who spoke. There were some NRA and Trump supporters, perhaps 10 on other side of street, but overall there was not the menacing atmosphere as there had been at the NRA headquarters the day before.
Seattle
"In Seattle about 100 people rallied and marched in the streets and were defiant in the face of a dozen fascists who tried to intimidate them throughout the day. At this writing, over 67000 people viewed livestream coverage of the protest by the local CBS news affiliate, KIRO 7.
"There was a lot of political breadth reflected in the sponsoring organizations, the speakers and the crowd, ranging from Obama supporters to revolutionaries, from people who work on legislation via the Indivisible guide, to immigrants under the guns of the police and fighting unjust detentions. Members of Refuse Fascism have some experience seeing and facing off against the fascist forces unleashed by the Trump/Pence Regime. For others this was new."   complete report below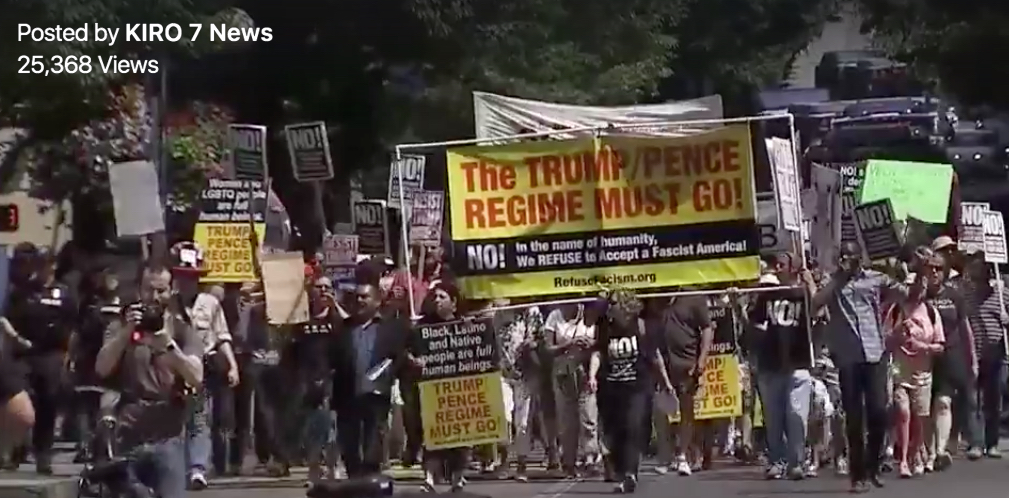 Detroit
Fifty people came together at the Joe Louis Fist Memorial in downtown to join in the nationwide day of protest. Speakers included Refuse Fascism, Metro-Detroit Political Action Network and others, followed by a spirited march through downtown behind a home-made banner, "NO! Drive Out Trump/Pence Regime!" (The National Lawyers Guild provided legal observers.)
Houston
Philadelphia
Cleveland
A diverse group of 60 people came out: Black and white high school youth, women in their 80s, a young Black man representing proudly with a rainbow NO! sign, people in electric wheelchairs, a Muslim woman in a hijab, and people connected with Indivisible and the Cuyahoga Progressive Caucus. Several fascist militia men showed up, armed with automatic rifles and dressed in fatigues, trying to intimidate people. We did not let these fascists hold us back from our mission. At the rally, speakers from different perspectives spoke to the urgency of the demand: NO! In the name of humanity, the Trump/Pence Regime MUST GO!
Harrisburg PA
Denver
"We were at that state capital (one of the pictures shows the state capital with the posters lined up of "J'accuse … The Crimes Against Humanity of the Trump/Pence Regime"
).  I did a two paragraph speech.  I talked about each poster… we chanted "Trump/Pence must go"! as we started marching down Lincoln St to Fox News.  On the way there [we stopped at] two other News Stations… We stood in front of CBS and chanted than we marched down to the next News Station ABC and chanted.  They looked out of their windows.  We continued on to Fox31 and we lined up the Indictment Posters and started chanting to show Fox 31 that we are protesting along with Refuse Fascism nationwide.  There was 3 people standing in the lobby and seen us coming.  They all ran for cover as if just the 8 of us there were going to storm the place.  I had one of my team contact them by phone and they sent down a reporter.  I handed the reporter the indictments on legal paper.  He went back inside the building and we started to chant again.  We succeeded in doing what we were suppose to do and we were glad that we did this along with everyone nationwide.
The walk was 1.5 miles.  I had one medic with us."
Boston
The J15 rally was held in Somerville at the conclusion of a day-long arts festival. 85 -100 people, most coming after learning about it on Facebook. Some were with groups like Indivisible and Interfaith Worker Justice. One woman said she had voted for Hillary Clinton but was now so furious with the Democrats as well as Trump that she wanted to get with Refuse Fascism. Speakers and statements read at the rally were from: Refuse Fascism; Rev. Rob Mark of the Church of the Covenant; "To the Fighters and Dreamers of July 15," from the Revolutionary Communist Party, USA; activist with Interfaith Workers Justice Coalition, on the case of a Salvadoran immigrant who was recently detained for deportation by ICE while he was getting an extension on his work visa; Academics Against Fascism (AAF); a statement from a Refuse Fascism woman activist, who is a quadriplegic and could not attend the rally (the statement was read by a doctor with AAF); a Salvadoran woman (born in U.S.) who was not planning on speaking until she listened to Refuse Fascism statement. The rally ended with a singer/songwriter singing Woody Guthrie's "Deportee."
Honolulu
Our march was loud, visible, and fast-moving as it moved through the Waikiki tourist district during the busy supper-hour.   Beaches and sidewalks were crowded; diners came to windows, and tourists came out to their hotel lanais.  Many joined clapped, raised their fists, or joined the chants.  A few shouted their support for Trump and some GI's tried to get a group together to counter us while another group of GI's showed their support.   While much smaller than we'd anticipated (only about 25) the march ended with high spirits and strengthened determination.
Houston
Here in Texas, there was a mixture of excitement, tension and fear leading up to the July 15th rally and march to demand that Trump and Pence Must Go. About a week earlier, we learned that a group of fascists was​​ coalescing to disrupt our event, and were in fact planning to become an armed presence at all protests to keep the protesters in line. In a Facebook post, they stated, "This is what is going to have to happen every time these people rear their heads in the Lone Star State. We show up in force, outnumber them & make it clear to their members & supporters that this is Texas & we won't allow them to assault Texans, riot & trash our state like they do in California, Michigan & Illinois." This group, calling themselves the Texas Freedom Force, showed up armed to the Impeachment March in Austin on July 2nd.
They stationed themselves at various points along the march, followed marchers as they shouted into their bullhorns, harassed people who stayed behind at the Capitol during the march, and they made it up to the stage to disrupt the speakers. Some of their vitriol from the Impeachment March is captured in a video blog made by a Refuse Fascism volunteer. I urge everyone to watch it, even if it is uncomfortable, because it shows how integral these fascist ground troops are to the overall program of remaking society and government. They want an end to critical thinking, an end to diversity, an end to reason and kindness, an end to a culture of caring about oppressed people. They want a world where might makes right, and showing up to intimidate people who don't think like them, who don't want to live in that kind of nightmare, is part of enforcing this worldview at all levels, in the streets and in the highest halls of power. These are Trump's brown shirts uniting as an organized force to carry out, on the most basic level, the threats of this regime.
The fact is that on July 15th, they did show up in force. Some wore paramilitary uniforms and were armed with automatic weapons. Some were dressed in shorts and tee-shirts and their MAGA hats. Many carried American flags and one held a weird raggedy combination of the American and Confederate flag sewn together.  It seemed like this was a loose coalition of people uniting under one call to "defend" their president. And the fact is, we were outnumbered.  As about 27 of us, a diverse and determined group, marched past them to get to the rally sight, I'm sure all of us were aware that this situation could get volatile at any moment. We countered their chants of USA, USA, USA, with No Trump, No KKK, No Facist USA.
We stayed focused, looked straight ahead, and got to our rally sight as a coherent group, ever more determined to raise our demand that this regime must go.
Once our rally started, we set our own tone, our own culture of unity, respect, and joy at speaking out. Beyond making a wall with our signs and banners to block the view from across the street, we paid little attention to the Texas Freedom Farce. We listened to each other. We heard the call read aloud again, reminding us of where we started and why we were here. We heard the message from the Refuse Fascism National Office, moved by the fact that this same statement was going to be heard in cities across the country. We cheered at the performance of a fierce spoken word artist.
We mourned and honored Alva Braziel, whose widow told the story of how he was shot sixteen times when he was out one night looking for one of their horses that had run away, reminding us of the kind of open terror Jeff Sessions and his Department of Justice wants to unleash more of, where the police have permission from the top to subject any Black person to public execution. We heard a homeless advocate talk about the callous attitude of this regime against the poor and hungry. He rightly pointed out that Trump and Pence don't care about any poor or working class people, including the white working class.
Joey Johnson read a statement from the Revolutionary Communist Party and saluted all of us for coming out in spite of great odds. Years ago Joey had burned the U.S. flag at a Republican National Convention here in Texas, and now this notorious revolutionary communist boldly returned in the teeth of the Confederate and U.S. flag waving, camouflage wearing, open and concealed weapon toting fascists.
At their peak there were about sixty of the Trump supporters, but they never succeeded in drowning us and our seven bullhorns out. They never shut us down, and never dampened our spirit. At one point a whole group of them left, and although there was a steady stream of disgusting and stupid insults from their side, including the N-word, comments about how physically weak we looked and what we were wearing and how our signs were "fingerpainted," there were also moments where they simply got tired of yelling, and all we heard were our own voices rising up in strength and unity. One of them yelled out, "You don't know what respect is because you're liberal arts majors." This statement reveals so much about how threatened they are by critical thinking. To them, respect is blind obedience. It's the absence of free thought.
When the rally ended, one of our volunteers gathered everyone together for a picture with our signs and banners and our fists in the air. It was a beautiful sight.
And still we carried on. We weren't sure we would have the numbers to attempt our marchthrough downtown. We weren't sure if they would follow us, or look for an opening to surround us. We started on our march, and most of the Texas Freedom Force went in a different direction. When we started chanting, about ten of them broke off from the main group and followed us through the streets, still hoping to shout us down. Again they didn't succeed. We were louder, our call bouncing off the buildings of downtown Houston. We gave people our statement as we passed by and made it back to our starting point. In the end, we simply walked away from the small group of fascists still yelling at us.
There was tremendous diversity among our group, people from different races, different economic backgrounds, different ages and different cities. Two people who had never been to a protest before came just because they felt they couldn't ignore this anymore. One of our group had been arrested and released just in the past few days for protesting police violence. A young videographer who had come at the request of one of our volunteers stayed the whole time even though he was supposed to leave at noon. He captured hours of footage. As our MC said later on, we were outnumbered but it didn't feel like we were.
I felt strongly that the people who did not come out to this, because of their fear or uncertainty or apathy, missed out on something very special. They missed out on a chance to develop a new sense of agency, to take control of their destiny and stand up for everything that is beautiful in the world and everything that could lead us to a better future.
My own fear was visceral and overwhelming, but I decided there was nothing I would rather do than face down this fear, by standing shoulder to shoulder with friends and strangers. It was an unforgettable and emotional day for me, and I can't wait for the day when millions of us take to the streets to drive out this fascist regime for good.
Two statements from participants:
From a spoken word artist: "We're Houston, Texas and we're refusing fascism. We just had a march in Houston. We were outnumbered. The white rightwing fascists came out but we were louder than them. They didn't disrupt what we had going on. We had the Black and Brown community out here demanding an end to the Trump/Pence regime, an end to police brutality against Black and Brown people, and all of the injustices that occur. We stood strong, we stood our ground, and we said no, we're refusing this fascist regime."
From an undocumented immigrant: "Despite being outnumbered 2 to 1, we still made sure our voices were heard. We fought for the rights and defended those who are being oppressed by the Trump/Pence regime. We made sure we made clear that we will not stop until the Trump/Pence administration are kicked out of power, because this is a matter that not only affects us, but others all around the nation and all around the world. We're doing this for everyone who lives on this great planet and who deserves to have their freedoms upheld no matter what. You need to join us because if you don't, the Trump and Pence administration will only get stronger. They will do whatever is needed to secure their power. In six months they've already taken the sort of steps to create that tyrannic future that we're trying to avoid. So it is imperative that you come out into the streets and that you shout all you need to, so we can avoid that future at all costs."
Seattle Full Report
In Seattle about 100 people rallied and marched in the streets and were defiant in the face of a dozen fascists who tried to intimidate them throughout the day. At this writing, over 67000 people viewed livestream coverage of the protest by the local CBS news affiliate, KIRO 7.
Indivisible North Seattle, Impeachment March-Seattle, Refuse Fascism, Seattle Gay News, and FUSE Washington were sponsors. Among the crowd were Democrats, socialists, communists, anarchists, religious people, young people who came with their families, and others.  There were speakers from Indivisible, FUSE, Refuse Fascism, Northwest Detention Center Resistance, October 22 Coalition To Stop Police Brutality and Casa Latina.
Powerful solo music and song was performed by Tae Phoenix and Harper of the band Harper Conspiracy.  ANSWER and various individuals came forward to help minimize the disruption planned by Trump thugs. Individuals from One America, an organization that stands up for the rights of immigrants and Muslims, were there holding Refuse Fascism signs. They had struggled with others they knew and worked with to speak and come out, but there was legitimate fear of taking a public stand. This highlighted the importance of everyone who was there standing up and creating the space for others to step forward as soon as possible.
People Unify On "Trump/Pence Must Go"
There was a lot of political breadth reflected in the sponsoring organizations, the speakers and the crowd, ranging from Obama supporters to revolutionaries, from people who work on legislation via the Indivisible guide, to immigrants under the guns of the police and fighting unjust detentions. Members of Refuse Fascism have some experience seeing and facing off against the fascist forces unleashed by the Trump/Pence Regime. For others this was new. At an Indivisible meeting of about 100 people the next day, Indivisible members announced that they had participated in the rally and emphasized that the fascists were there, actual fascists not just Trump supporters, and that what they were saying was really ugly. One woman said she hesitated to go, especially when she got there and didn't see a lot of people on our side. She said she would never hesitate again and that these were the kinds of events Indivisible HAS TO be at, that, from her perspective, everything Indivisible is doing is to stop fascism.
In the speech by Nicole A Bradt from Indivisible, she exposed numerous outrages committed by Trump & his cabinet, giving them no quarter, and went on to pose a different morality: "We stand on the idea that lies are not acceptable, hate is not acceptable, fear is not acceptable. We oppose oligarchy. We oppose fascism. We stand in solidarity with ALL marginalized communities and we elevate their voices. We speak the truth and we resist propaganda even when it is difficult, and geez, these following truths are difficult. Trump is not a legitimate President and we need to stop treating him as if he were!" Maru Mora of Northwest Detention Center Resistance said "This system they are building is meant to control our population…Fuck Trump. It is a fascist regime…Stand up to this fascist regime." Maria Giron, mother of Oscar Perez-Giron who was murdered by police, told how Trump has brought even more terror into Latino communities, and said "We have to not stop, not give up, we have to drive them out." The crowd included young and old.  Two older women with white hair were decked out with signs, a "Resist " flag worn as a cape, and hats that said "ITMFA" which stands for "Impeach the Mother Fucker Already."  A man said he and his wife supported "these marches" and during the Women's March he had trouble finding sign materials so stocked up on them. He said he would donate on the RefuseFascism.org web site.
The march stepped off with the chant: "What-Must-We-Do? Drive Out Trump! And his whole crew!" In addition to speaking, Marquese Averett from FUSE Washington, an organization focused on getting Democrats into office, helped lead the march and chanting that when the people are under attack, what do we do? Stand up fight back! He called on onlookers to join in, telling them Democracy is not a spectator sport. In response, a father led his young son into the street to march and several others joined along the way. An organizer from Refuse Fascism spoke out on the bullhorn when the march stopped at crowded intersections with many tourists, saying the time to step out is now, that we can't be people who look back and say "When they came for the Muslims, I didn't speak out because I wasn't a Muslim. When they came for the immigrants, I didn't speak out because I wasn't an immigrant" This drew cheers and applause from the crowd and then was pounced on by the 6 or 7 fascists who were following the march. Their shouts of USA, USA were often drowned out by the drums and horns of the Action Band and other musicians that marched the whole way, giving the march a lot of joyful energy and rhythm. One of the most beautiful parts of the march was at one of these crowded intersections as the band played and the marchers danced and chanted "We Refuse a Fascist America! No, No, No, No, No!
Trump Thugs Attack, People Carry On With The Message
In the days leading up to the rally, fascists launched a suppression campaign.  They created a Facebook event for the same place and time, then targeted people going to the rally by sending them this fascist event.  They also came on the day of and tried to disrupt it with various tactics such as shouting "USA, USA" while people were speaking, breaking into the march with US flags, harassing individuals, walking thru the crowd while widely video taping individuals, and haranguing people from the side lines.  People stood up to these fascists and called them out for what they were, and were resolute and united in carrying the message of the day as the march passed thru crowded tourist areas of Seattle: Trump And Pence Must Go!
The leader of these fascists was Anthony Parish of Act for America, who organized the June 2017 anti-Muslim hate event in Seattle. The singer Tae Carter wrote this passionate article on her encounter with him at the rally.  Her response upholds the need for all people to base our actions, and the way we go through the world, on our shared humanity.