The FACTS:
What Trump/Pence Regime Has Already Done…
and Say They Will  Do…
Each postable page in this tabloid-sized brochure documents the horrific things that the regime has done, what it has said it will do, and/or what it has unleashed around one of the following seven issues: Muslims; Civil liberties; The people of the world; Women and LGBTQ people; White supremacy, police brutality, and mass incarceration; The environment; and Immigrants.
Order 1, 10, 100 or more of the Refuse Fascism pamphlet with all the indictments – poster size here.
Click on any of the thumbnails below for a sharable PDF that resizes to fit browser windows, or can be taken to a printer.
Topics:
Latest crimes (updates): In just the last few days…
 These Indictments serve three major functions.
1. Educate. The crimes documented in these Indictments paint an irrefutable picture of the scope, scale, and magnitude of the nightmare being rapidly imposed by the Trump/Pence Fascist Regime. This reality is being hidden from people. The Call for Nov. 4 states: this is "a regime step by step discarding basic democratic rights, targeting group after group, and suppressing dissent and resistance … This is fascism—a qualitative change in how society is governed. History has shown that fascism must be stopped before it becomes too late." The more people understand what is really being done, the more they will see why it is on us to get organized to drive them out, starting Nov. 4.
Spread these everywhere—to students and teachers, to friends, family and co-workers, to places of worship and professional organizations, on social media and beyond.
2. Protest. These Indictments should be used to disrupt the normalization of fascism everywhere it is happening. Members and supporters of the Trump/Pence Regime can be confronted with these Indictments at public events. The media that are normalizing fascism by refusing to cover the full scope of what the regime is doing can be challenged using these Indictments. Find ways to use these Indictments that are hard to ignore, that generate positive controversy and media coverage, and that compel new people to wake up and get involved.
The Indictments can be held up and cited in this booklet form. Or, go to

refusefascism.org/materials-for-reproducing/

for PDFs and instructions for printing these in many different sizes (

including large 3- by 5-foot posters

) that are highly visible and dramatic.

Verbally announce Nov. 4 as part of your action, wear it on your shirt, include it in any press release, etc.

3. Organize. Driving out a fascist regime will require a lot of organization; people act with greater courage, conviction, and impact when they act together in a group. Digging into these Indictments and acting together to spread them is a great way for new groupings of people and existing organizations to get organized for Nov. 4.
Bring these Indictments and the Call for Nov. 4 to your religious community, to student groups and professors, to your professional network, to your book club and/or any other group you are part of. Discuss and debate their content. Then discuss how you can take part together in the Nov.4 movement. This should include endorsing Nov. 4, committing to attend, and reaching out to broader networks to do the same. It can also include setting up installations with enlargements of the Indictments at your next gathering or in public spaces.

Not part of a group? Gather friends, classmates, co-workers, and family members and/or post an invite online and on bulletin boards to discuss and make plans around these Indictments and Nov. 4.

Take this pamphlet to rallies, distribute in your neighborhood. Post pages on bulletin boards, set up a table at cultural, political, and civic events.

If you have questions, want to get connected with others in your area, want to bring a Refuse Fascism speaker to address your group, or anything else, don't hesitate to contact us.
Order 1, 10, 100 or more of the Refuse Fascism pamphlet with all the indictments – poster size here.
Click on any of the thumbnails below for a sharable PDF that resizes to fit browser windows, or can be taken to a printer.
Call us at: 917-407-1286
Write to us: [email protected] to let us know what you think, questions that you or others have, questions you would like to see addressed on RefuseFascism's website and social media. Please share with us any photos or video of how you utilized these Indictments and the Nov. 4 Call.
 Printable poster PDFs here
The Trump/Pence Regime on Women and LGBTQ


The Trump/Pence Regime on Civil Liberties:
What they have done
Over 230 protesters arrested at Trump's inauguration were charged with multiple felonies, including federal riot charges, and 230 defendants face up to 70 or more years in prison. The government is now demanding massive and detailed information on visitors to a website used to organize those protests. The site's web hosting provider says complying would amount to handing over roughly 1.3 million visitor IP addresses.
U.S. agents now search cell phones and other electronic devices of people traveling internationally at a rate four times higher than in 2015. The head of Department of Homeland Security said visitors to the U.S. should be required to give up their online passwords and submit to social media searches.
Trump has systematically accused the press of "fake news" and being an "enemy of the people"; refuses to hold regular press briefings; threatens individual reporters and news outlets; and has tweeted a video of himself beating up a CNN reporter.
Trump and his spokespeople have attacked artistic expression ranging from comedians to a staging of Julius Caesar by NYC's Shakespeare in the Park featuring a Trump-like title character.
Attorney General Jeff Sessions has launched an aggressive campaign to identify and prosecute people who leak information to the press and opposes a federal "shield" law to protect journalists who refuse to disclose their sources.
What they said they will do
After Edward Snowden, a government security contractor turned whistle-blower, revealed the vast U.S. spying on people's communication, Trump and Pompeo, now the head of the CIA, called for Snowden's execution.
Trump has publicly stated he wants to expand the government's surveillance apparatus, including restoring parts of the Patriot Act that have been amended. While still a senator, Jeff Sessions helped derail a Senate bill that would have required law enforcement to get a warrant before accessing stored electronic communications like emails.
The Trump/Pence regime has discussed rewriting libel laws to allow suits against those who criticize government officials or leak unflattering information. After the New York Times published parts of Trump's tax returns in December 2016, Corey Lewandowski, former Trump campaign manager, said the Times' executive editor "should be in jail."
Trump reportedly told James Comey before firing him as FBI director that journalists should be jailed for publishing classified information.
TSA proposed requiring airline travelers to take all books out of carry-on luggage for agents to inspect.
Department of Homeland Security announced plans to expand the use of facial recognition cameras at airport boarding gates to scan all passengers leaving the U.S.—from seven major airports currently to all airports.
What they have unleashed nationally
Trump supporters are systematically attacking academic freedom. They have targeted progressive professors with online threats and terror, and fascist goons have gone to campuses to spread hate and attack students and professors.
Republican legislators in at least 19 states have introduced bills criminalizing protest in different ways in response to the massive anti-Trump demonstrations, and other states may follow suit. Some have already been passed into law.
A proposed bill in Arizona redefines "rioting" to be included in the state's racketeering laws, allowing the government to seize the assets of people who participate or help plan protests that turn violent.
A proposed bill in the Alabama Senate criminalizes "mass picketing" aimed at blocking access to streets and highways, airports or train tracks, places of business, and private residences, as misdemeanors punishable by up to a year in prison and $2,500 in fines.
Proposed laws in North Dakota, Tennessee, Florida, Texas, Rhode Island, and North Carolina make it legal to run over protesters as long as the driver claims it was an accident.
A new Georgia law called the Back the Badge Act of 2017 criminalizes various acts of resisting police or jail authorities.
Minnesota is considering bills that will increase penalties for blocking highways from misdemeanor to gross misdemeanor, with penalties of up to a year in prison and a $3,000 fine. And they allow law enforcement or other government agencies to sue people convicted of unlawful assembly or public nuisance for the cost of government response to the protest.
A proposed bill in Mississippi criminalizes "maliciously impeding traffic on a public road," punishable by up to 5 years in prison and a $10,000 fine.
In Missouri a proposed bill makes it a misdemeanor punishable by up to a year in prison for a protester to conceal "his or her identity with a robe, mask, or other disguise" while engaged in an unlawful assembly, and makes it a crime for two or more people to intentionally "impede vehicular traffic" by walking, standing, sitting, or lying on a public street or highway, punishable by up to 7 years in prison.
North Dakota has increased penalties for "instigating a riot" from a Class C to Class B felony, with up to $20,000 in fines and 10 years in prison. Wearing a mask or hood to avoid identification or escape detention is now punishable by up to a year in prison and a $3,000 fine.
An Oregon bill will expel students from their college or university if they participate in a violent "riot."
A Senate bill in Washington will criminalize "economic disruption," defined as trying to influence government action by intimidation or coercion, blocking any vehicle or ship, or obstructing any oil pipeline, barge or power plant, with penalties ranging from 2 to 12 months in prison.
In March 2017, a UN Special Rapporteur issued a report expressing concern about the impact these different bills and laws could have on free speech, assembly, and right of association.
The National Rifle Association released a video attacking the New York Times, which ended with the warning, "We're coming for you."
 Printable poster PDFs here

The Trump/Pence Regime on People of the World…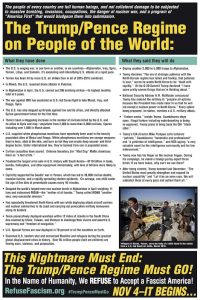 The people of every country are full human beings, and not collateral damage to be subjected to massive bombing, invasions, occupations, the danger of nuclear war, and a program of "America First" that would bludgeon them into submission. 
What they have done
The U.S. is waging war, in one form or another, in six countries—Afghanistan, Iraq, Syria, Yemen, Libya, and Somalia. It's escalating and intensifying U.S. attacks at a rapid pace.
Yemen has been hit by more U.S. air strikes than in all of 2015-2016 combined.
In March, the U.S. resumed drone attacks in Pakistan.
In Afghanistan in April, the U.S. carried out 296 bombing strikes—its highest monthly total in 5 years.
The war against ISIS has escalated as U.S.-led forces fight to take Mosul, Iraq, and Raqqa, Syria.
The U.S. has also stepped up threats against Iran and its allies, and directly attacked Syrian government forces for the first time.
There's been a staggering increase in the number of civilians killed by the U.S. and its allies in Syria and Iraq—anywhere from 2,300 to more than 3,000 civilians, figures including over 1,000 in March alone.
U.S.-supplied white phosphorous munitions have reportedly been used in the heavily populated cities of Mosul and Raqqa. White phosphorous munitions are savage weapons: they're toxic, stick to the skin, and burn so hot they can create deep second- and third-degree burns. Under international law, they're banned from use in populated areas.
Civilian casualties have soared.  Defense Secretary Jim "Mad Dog" Mattis dismisses them as "a fact of life."
Finalized the largest arms sale in U.S. history with Saudi Arabia—$110 billion in tanks, bombs, helicopters, and other equipment immediately, with tens of billions more likely to come.
Explicitly supported the Saudis' war in Yemen, which has led to 10,000 civilian deaths, massive famine, and a rapidly spreading cholera epidemic.  On average, one child under the age of five dies of preventable causes every 10 minutes.
Dropped the world's largest-ever non-nuclear bomb in Afghanistan in April weighing 11 tons and nicknamed MOAB—the "mother of all bombs." Trump called MOAB "another very, very successful mission."
Has repeatedly threatened North Korea with war while deploying attack aircraft carriers and nuclear submarines to its coast and carrying out provocative military maneuvers along its borders.
Twice provocatively deployed warships within 12 miles of islands in the South China Sea claimed by China, Taiwan, and Vietnam to challenge their claims and assert U.S. supremacy and "freedom of navigation."
U.S. Special Forces are now deployed in 70 percent of all the countries on Earth.
Slammed U.S. borders shut and demonized Muslims and refugees during the greatest global displacement crisis in history.  Over 65 million people (half are children) are fleeing wars, violence, and persecution.
What they said they will do
Deploy another 3,000 to 5,000 troops to Afghanistan.
Trump declares "The era of strategic patience with the North Korean regime has failed and frankly, that patience is over," warns he wants North Korea to be "dealt with rapidly."  At the G-20 Summit Trump declared "I have some pretty severe things that we're thinking about."
National Security Adviser H.R. McMaster announced Trump has ordered the military to "prepare all options because the President has made clear to us that he will not accept a nuclear power in North Korea." Every option being prepared, he states, involves a U.S. military attack.
"Torture works," insists Trump. Guantánamo stays open. Illegal torture including waterboarding is being re-approved. Trump plans to bring back the CIA "black sites."
Trump's CIA director Mike Pompeo calls torturers "patriots," Guantánamo "honorable and professional" and "a goldmine of intelligence," and NSA spying "a very valuable asset for the intelligence community and for law enforcement."
Trump now has his finger on the nuclear trigger. During his campaign, he asked a foreign policy expert three times: If we have nukes, why can't we use them?
After being elected, Trump tweeted last December, "The United States must greatly strengthen and expand its nuclear capability" and "Let it be an arms race. We will outmatch them at every pass and outlast them all."

 Printable poster PDFs here
The Trump/Pence Regime on Environment
The Earth and the species who inhabit it—including humanity—should sustain life and not be despoiled by ignorance, greed, and the disregard of science.
What they have done
Withdrew the U.S. from the Paris international climate agreement on greenhouse gas emissions.
The regime released a list of 860 environmental rules it's reviewing or withdrawing—including drinking water standards for radon and lead levels, water quality standards on Indian reservations, ozone and methane emission limits, and air-quality standards for hazardous chemicals. Just ten of those standards save more than 10,000 lives and prevent 300,000 cases of illness and injury each year.
Contrary to scientific consensus, EPA head Scott Pruitt denied on national TV that carbon dioxide from burning fossil fuels is the main cause of global warming.
Approved and expedited construction of the Dakota Access and Keystone XL oil pipelines, which will increase fossil fuel use and emissions and accelerate global warming.
Attempted to block rules restricting leaks of methane, an even more harmful greenhouse gas than CO2, from landfills and from oil and gas wells.
Approved the use of chlorpyrifos, a widely used pesticide shown to be harmful to children's brains and nervous systems.
Rescinded Obama's Clean Power Plan, which put restrictions on carbon emissions from new and existing power plants.
In a move lauded by the NRA, Trump's interior secretary approved the use of lead ammunition on federal lands and waters.
What they said they will do
EPA head Scott Pruitt attacks climate science and the reality and danger of climate change and plans to dismiss 38 scientists from the EPA's Board of Scientific Counselors.
In the name of doing an "update" to "reflect the agency's new direction," the EPA website has removed "Climate Change" as a topic from its menu of "Environmental Topics" and begun making content related to climate change unavailable.
The Trump/Pence budget would slash the EPA budget by more than 30 percent and eliminate 3,200 jobs at the agency.
Among the EPA programs targeted to be gutted or eliminated is "environmental justice," which was supposed to help minority and other disadvantaged communities fight industrial pollution.
Filed a plan to end rules protecting more than half the country's streams and waterways—which flow into rivers, lakes, and wetlands—from pollution, which could end drinking water safeguards for one in three people in the U.S.
Announced plans to roll back auto fuel efficiency standards and regulations restricting vehicle emissions.
Trump instructed his interior secretary to review 40 national monuments to see if the size of land set aside for protection from development should be reduced.
A Trump order for a review of bans on offshore oil drilling in parts of the Arctic and Pacific and Atlantic oceans points to renewed expansion of such drilling.
Trump has said the U.S. environmental regulations are "out of control," and has removed protections of certain species, like the Yellowstone grizzly bear, and ordered reviews of rules protecting other endangered species, like the greater sage-grouse.
Although studies say the construction of Trump's border wall will threaten more than 100 species of animals and plants, Trump claims no environmental review is necessary to put up the wall and plans to invoke "national security" to bypass it.
The Bureau of Land Management proposed repealing rules on fracking on federal and Native American tribal lands that put some requirements on oil and gas companies, like safety measures on toxic chemicals used in fracking.
The Department of Treasury says they will turn from promoting renewable energy in "developing" countries to supporting more coal-fired power plants and other fossil fuel projects.
 Printable poster PDFs here

Muslims and refugees are full human beings, not people to be shunned, banned, and cast out to be swallowed up by oceans and wars.
The Trump/Pence Regime on Muslims:
What they have done
Imposed significant parts of a Muslim ban that bars people from 6 Muslim-majority countries and all refugees from entering the U.S.
To get around the obstacles put up by some courts to the Muslim ban, instituted "extreme vetting" that especially targets people entering the U.S. from Muslim-majority countries.
After the initial Muslim ban, Trump fired the acting attorney general for refusing to defend the ban.
Trump said nothing when a 17-year-old abaya-wearing Muslim girl, Nabra Hassanen, was kidnapped after leaving a Virginia mosque and battered to death with a metal bat.
Trump appointed as his chief of strategy Steve Bannon, who sees America and the "Christian West" as being locked in an existential struggle with the Muslim world and non-European/dark-skinned people generally.
Wisconsin sheriff, David Clarke, a fascist who spoke at the Republican Convention, called for intensified surveillance of Muslim communities.
What they said they will do
ICE is targeting immigrants from Muslim-majority countries named in Trump's original Muslim ban. In July, at least 114 Iraqi immigrants in Detroit—nearly all Chaldean Christians from Iraq—were rounded up in an ICE raid.
ICE has announced that they have a list of 1,444 "deportable" Iraqis that they fully intend to go after, arrest and deport—as well as 4,801 Somali immigrants on the same list.
When the U.S. Supreme Court reinstated significant parts of Trump's Muslim Ban 2.0 in June, Neil Gorsuch, appointed to the Court by Trump, joined two others in an opinion declaring the ban should be restored in full—in anticipation of the Court considering the question in the fall.
What they have unleashed nationally
Fascists rallied in dozens of cities across the country on June 10 in what they called a "March Against Sharia," a major leap in the normalization of anti-Muslim bigotry.
A Trump supporter in Portland, Oregon, murdered two Good Samaritans who came to the aid of women he was threatening because one wore a hijab. He shouted, "Muslims should die." It took Trump 4 days to tweet that the attack was "unacceptable."
The number of hate crimes against Muslims in the first half of 2017 spiked 91% compared to the first half of 2016. There were 66 attacks on mosques in the U.S. in that period—compared to 84 for the whole of last year.
A white man set fire to a convenience store in St. Lucie, Florida, in March while shouting "run the Arabs out of the country," because he thought it was owned by Muslims.
A woman walking on a Milwaukee street in April was confronted by a man who pulled up to her in a car, demanded that she remove her hijab, pulled her to the ground, and slashed at her clothes with a knife.
A worker at a Middle Eastern restaurant in Salem, Oregon, was attacked by a white man wielding a pipe and yelling "Get out of America" and "Arab, you need to leave."
In August, an IED exploded at Dar Al-Farooq Islamic Center in Bloomington, Minnesota, as people were preparing for morning prayers.
A Muslim cemetery in Castle Township, Minnesota, was vandalized with swastikas and graffiti saying "leave u r dead."
 Printable poster PDFs here

The Trump/Pence Regime on Immigrants
Immigrants are full human beings, not "illegals" or criminals, to be demonized, terrorized, hunted down, locked up, and thrown out.
What they have done
One of Trump's first acts in office was an executive order targeting all 11 million undocumented immigrants for deportation, regardless of any supposed criminal record.
Arrests of immigrants are up almost 40 percent from the record highs under Obama.
Every day since Trump/Pence came into office, over 400 people have been ripped away from their lives, families, and jobs by the Immigration and Customs Enforcement (ICE).
Trump officials claim the Deferred Action for Childhood Arrivals (DACA) program that gave temporary deportation relief to 750,000 mostly young immigrants ("DREAMers") brought to the U.S. without documents when they were children is "under review"—but ICE agents have already arrested some DREAMers, like 22-year-old Daniela Vargas in Jackson, Mississippi.
In prepared remarks for an appearance at the U.S.-Mexico border, Attorney General Jeff Sessions wrote: "It is here, on this sliver of land, where we first take our stand against this filth…. This is a new era. This is the Trump era."
Over the June 10 weekend, at least 114 Iraqi immigrants—nearly all Christians who face extreme persecution and threat of death if deported—were rounded up in SWAT-team type raids by ICE agents in Detroit.
Trump's Department of Homeland Security appointed the former director of the virulently xenophobic group FAIR as an "ombudsman" whose role is supposedly to advocate for immigrants whose citizenship or visa applications have run into problems.
What they said they will do
To step up anti-immigrant operations, the Trump/Pence regime plans to hire 5,000 more Border Patrol cops and 10,000 more Immigration and Customs Enforcement (ICE) agents in the coming months and years.
Plans for Trump's wall for the border with Mexico are going ahead, with the regime calling for the allocation of several billion dollars to start the construction even as Trump continues to insist Mexico will be forced to pay for the total cost of tens of billions.
Trump/Pence announced at end of June they will begin arresting parents and other relatives who hire "coyotes" to help their children cross the border into the U.S.
Trump's Pentagon is considering reneging on enlistment contracts for 1,000 foreign-born recruits without legal immigration status, who had been promised a path to citizenship for serving in the military—making them targets for deportation.
What they have unleashed nationally
Among the barrage of Republican anti-immigrant bills now in Congress is the Davis-Oliver Act which, among other things, would turn civil immigration infractions into criminal violations punishable by prison, expand immigration prisons, require local law enforcement to hand over to Department of Homeland Security a wide range of data on all immigrants who are arrested and suspected to be undocumented, and other draconian measures.
States are also passing anti-immigrant laws; for example, the SB4 law signed by the Christian fascist Texas governor Abbott, requiring that local law enforcement detain a person they suspect of being undocumented until their immigration status is checked—the law effectively bans sanctuary cites and campuses in the state.
Trump created a new government office under Homeland Security, called VOICE, which will "publicize" supposed crimes committed by undocumented immigrants. This anti-immigrant propaganda office is part of whipping up a climate of hatred and terror against immigrants.
Among the victims of Trump-era anti-immigrant violence: Srinivas Kuchibhotla, an immigrant from India, who was murdered in February in Kansas by a white man shouting "Get out of my country" as he fired his gun.

 Printable poster PDFs here
The Trump/Pence Regime on White Supremacy, Police Brutality, and Mass Incarceration
Black and Latino people are full human beings, not people to be denied the right even to live, gunned down by the police with impunity, incarcerated in genocidal numbers, and denied basic rights.


What they have done

Attorney General Jeff Sessions called for maximum charges and penalties for non-violent drug offenders, reversing policies reducing them, at a time when 2.3 million people, disproportionately Black and Latino, are already incarcerated.
Sessions has put a halt on consent decrees with cities that aim to address some of the most egregious police abuses, such as in Baltimore.
Police across the U.S. have already shot and killed over 508 people in the first 6 months of 2017, over 200 of them Black or Latino, with many unarmed.
In the name of stopping the "carnage," the Department of Justice is working with local police in 12 cities, and Trump has sent feds into Chicago. These forces are an advance guard for a stepped-up reign of terror on Black and Latino people.
Under Betsy DeVos, the Department of Education is rolling back investigations of civil rights abuses against people of color, women, and LGBTQ people in public schools.

What they said they will do

The Republicans are moving to end Obamacare, which will result in an additional 217,000 deaths over the next decade and 22 million more people without health insurance—hitting poor, Black, Latino, and Native American people hardest.
A proposed "Back the Blue Act" would make it harder to sue for damages for unjustified police violence; turn even minor, often non-existent, assaults on police into federal crimes with severe mandatory minimum sentences; and expand the federal death penalty to cover killings of police.
Trump's proposed budget will cut $192 million from the Food Stamps program over the next 10 years, taking food from many of the nearly 44 million recipients—about 26 percent Black—depriving basic nutritional assistance from children and elderly, disabled, working poor, and homeless people.
Funding for the Special Nutrition Program for Women, Infants and Children (WIC) will be reduced. Latinos make up 40 percent of WIC recipients, Black people about 20 percent, and Native people about 12 percent.
Trump's budget would cut 13 percent of the Department of Education budget—$9 billion—which will lead to further deterioration of public schools in oppressed neighborhoods, while $1.4 billion will be added to encourage and support private, charter, and religious schools, including vouchers for religious fundamentalist charter schools.
Other education cuts affecting oppressed nationalities in particular include elimination of $1.2 billion allocated for after school and summer programs serving 1.6 million students of working families, including after school food programs for low-income students.

What they have unleashed nationally

The Trump regime has fostered a climate in which white supremacists feel empowered and emboldened, including a Mississippi legislator who declared that anyone wanting to take down Confederate monuments "should be lynched."
In just the first 5 months following Trump's election, there were nearly 300 acts of racist threats directed against Black people.
There is an epidemic of lynching nooses appearing across the country—clearly meant to deliver a hateful, racist, threatening message. One appeared in May at the exhibit on segregation at the National Museum of African American History and Culture in Washington, DC—4 days after another noose had been found at another Smithsonian museum, the Hirshhorn.
In June, another lynching noose was hung near the National Gallery of Art in Washington, DC.
Other lynching nooses have appeared, since Trump's election, at a construction site and a middle school in Maryland; a frat house at the University of Maryland; the Duke University campus and Wakefield High School in North Carolina; the Port of Oakland in California; a high school in Lakewood, California; and a New York City butcher shop.

One hundred racists with burning torches, and some armed with automatic weapons, held a nighttime rally in May in Charlottesville, Virginia, against the taking down of a Confederate monument, shouting "We [white people] will not be replaced!"
After Texas congressman Al Green said on the House floor that Trump should be impeached, he was flooded with telephone lynching threats, like "You're not going to impeach anybody, you fucking nigger. You'll be hanging from a tree."

 Printable poster PDFs here

In the Name of Humanity,
We Indict FOX FASCIST NEWS
While masquerading as "fair and balanced", Fox News serves as a vehicle for stirring up racism, xenophobia and irrational fear of other peoples and countries among its overwhelmingly white audience. Fox has worked to turn millions into easy prey for leaders like Trump—who has had virtually unlimited access to airtime there—and to cohere them into a fanatical fascist movement.
Fox helped whip up war fever and mass hysteria over nonexistent "weapons of mass destruction" in Saddam Hussein's Iraq. It provided a platform for Trump and others to attack Obama as a "secret Muslim," and "not an American," as if being a Muslim was itself a crime, and being Black was somehow "un-American." It feeds fear of "Muslim terrorism" and casts suspicion on Muslim communities, women in Muslim garb, Muslim places of worship.
In the name of free speech, its hosts complained bitterly about being the victims of persecution as they whip up hatred for women, LGBTQ people and any person who is not white and Christian. FOX regurgitates Trump's lying portrayal of immigrants as dangerous criminals and a threat to "white womanhood." It exaggerates and spreads fear of rampant crime even as crime rates drop, implying if not outright saying that people of color are the cause of crime. It celebrates police even as they kill hundreds of Black and Latino people annually; then shamelessly defames the victims as criminal scum who got what they were asking for. Its hosts have defended the "right" of businesses to refuse service to gay people. It has saturated the airwaves with pseudo-experts who attack the scientific understanding of the danger of human-caused climate change, and who fundamentally attack science and critical thinking itself.
And on and on … Fox has proven to be an open sewer of misinformation, disinformation and outright lies, hour after hour.
Here are just some of the flood of lies and reactionary garbage that comes out of Fox "Fascist News Network":
At least 28 times before courageous abortion doctor George Tiller was assassinated by an anti-abortion killer in 2009, Bill O'Reilly and others on Fox News repeatedly called Dr. Tiller "baby killer" and spewed other incendiary lies and attacks, and whipped up murderous hatred against Dr. Tiller.
In a two-month period in 2013, 69% of Fox News guests talking about climate change and 75% of references to the subject cast doubt on the scientific reality of climate change—in contrast to 97% of the world's experts who hold the consensus view based on scientific evidence about the danger of climate change.
Donald Trump avidly follows the "Fox & Friends" morning show, tweets out lies straight out of Fox broadcasts, and regularly tells his millions of Twitter followers to watch Fox.
In one of many lies in service of spreading anti-immigrant hatred, Jillian Mele of "Fox & Friends" falsely claimed that 21 sanctuary cities across the U.S. are "teaming up" with an immigrant rights group to "rush the process for illegals pouring over our borders."
Trump advocated the U.S. use of torture during his campaign, and in an interview with Fox News' Sean Hannity after his election, Trump renewed his support for waterboarding.
After a cop in suburban St. Paul murdered Philando Castile, a 32-year-old Black man, Fox News hosts Hannity and Kelly criticized Castile's girlfriend who was in the car with her 4-year-old daughter, for not doing more to help; a contributor used the occasion to attack Obama for violent attacks on police; and a guest, an NRA board member, used the killing to accuse Obama of trying to start a race war.
Anti-abortionist Lila Rose appeared on the Tucker Carlson Tonight show on May 31 to promote the deceptive video footage that had been used by an anti-abortion group in a smear campaign against Planned Parenthood—after a federal judge had barred the release of the footage and ordered that all copies of it be removed from the Internet.
Top Fox News anchor Bill O'Reilly was let go after many women came forward to testify about being sexually harassed by him, as top management continued to back him—so far Fox News has paid $13 million to settle sexual harassment claims against O'Reilly. But this is just the tip of the iceberg of the whole misogynist, ultra-patriarchal culture at, and viewpoint consistently blasted out by, Fox News.
After a white supremacist murdered two men who tried to stop him from harassing a young woman wearing a hijab and her Black friend on a Portland, Oregon train, Fox News' Tucker Carlson downplayed his known history of neo-Nazi activity and claimed he was just an "unstable maniac," whose actions were "hardly the behavior of a coherent white supremacist," and "this guy wasn't a right-winger."
Fox News anchors and commentators have consistently downplayed the implications and evidence of the Trump campaign's possible collusion with Russia to affect the elections—host Gregg Jarrett said, for example, in late May, "I've said it before and I'll say it again: Collusion is not a Only in antitrust law. You can collude all you want with a foreign government in an election. There's no such statute."
As part of the Trump-Republican assaults on health care, Fox News spreads thinly disguised racist lies about Medicaid, such as: Medicaid "was going to people who didn't need it" (Ainsley Earhardt); Obamacare's Medicaid expansion included "a lot of people who are not, by previous standards, considered poor" (Brit Hume); Medicaid expansion gave care to "a population who maybe could have gotten a job" (Marc Siegel).
Fox News hosts and commentators have added to the dangerous Trump/Pence war threats around North Korea—including the host of "The Fox News Specialists" who said in June that if North Korea goes further with their missile development, "It may be time for a preemptive "

 Printable poster PDFs here