Refuse Fascism is made up of people coming from a diversity of perspectives who recognize that the Trump/Pence Regime is fascist, that it poses a catastrophic danger to all of humanity, and that it is our responsibility to mobilize millions to drive it from power.  We are united by the political mission of our Call to Action and we are, as it says, "working with all our creativity and determination toward the time when millions of people can be moved to fill the streets of cities and towns day after day and night after night, declaring this whole regime illegitimate – Demanding, and Not Stopping, Until the Trump/Pence Regime Is Driven from Power."
Email: info AT refusefascism.org
National Office Phone: (917) 407-1286
Mailing Address: Refuse Fascism, 305 West Broadway #185, New York, NY 10013
Connect with Refuse Fascism on:
Sign Up To Stop Trump/Pence Fascism
---
Refuse Fascism came together on an emergency basis in the wake of the election of Donald Trump.  Recognizing the fascist character and danger of the looming Trump/Pence Regime, we issued a Call to Action which begins: "NO! In the Name of Humanity – We REFUSE to Accept a Fascist America!  We recognize that the Trump/Pence Regime is illegitimate because it is fascist, that fascism must be stopped before it is too late, and that this means that the masses of people in their millions must be led to rise up and drive it from power.  Every political protest, every public program, every media appearance, every tweet and Facebook post, all the funds we raise, and every effort we make is to contribute to that goal.  We do this not just for ourselves, but in the name of humanity.
Some highlights of our work include:
** Our launch: We launched RefuseFascism.org at an Emergency Meeting at the Great Hall of Cooper Union in NYC on December 19th, 2016.  Watched by some 200,000 people on HuffPo's FaceBookLive, Andy Zee, PZ Myers, Carl Dix, Jeremy Scahill, Imam Ayub Abdul-Baki, Rev. Doris Johnson, Sunsara Taylor, Immortal Technique, and Fran Luck spoke along with messages from Gloria Steinem, Chase Iron Eyes, Isabel Cardenas, and others on the fascist character of the Trump/Pence Regime and called on people to get organized to stop it before it came to power.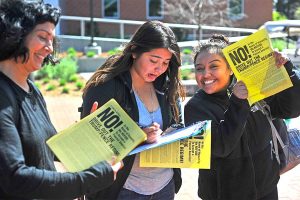 **Our Call to Action: We have issued a powerful Call to Action which recognizes the fascist character of this regime, the dangers that poses, and the need – and the means – for millions to get organized to drive this regime from power.  With every new development, the prescience and direction of this Call to Action has been borne out.  Thousands have signed it and spread it throughout society, offering analysis and direction.  Add your name to it here.
** Full Page Ads: We placed full page advertisements of the RefuseFascism.org Call to Action in both the New York Times and The Washington Post declaring: NO! In the Name of Humanity, We REFUSE to Accept a Fascist America.  This Call was signed by thousands of people, including hundreds of prominent artists, scientists, writers, musicians, academics, and others.
**The Power of NO!: We have spread the NO! throughout society as a unifying symbol rejecting everything the fascist regime stands for and as a way to bring together people from a diversity of perspectives to make their opposition known and felt. This NO! has appeared in photos of protest over and over all across the country, on stickers and patches, on t-shirts and in shop windows, on buttons and in major ads.
** Pre-Inaugural Protests: In the weeks leading up to the inauguration, we brought dozens of volunteers from across the country to converge on DC for several weeks.  Every day, volunteers fanned out across the city mobilizing students and others to translate their shock, fear, and anger into political protest and resistance.  Every night, we marched through the streets of DC calling on people to Stop the Regime Before It Starts.
** Disrupting Jeff Sessions: Five of our volunteers, including Carl Dix, were arrested for disrupting the Senate Confirmation Hearing of the racist Jeff Sessions.  This was broadcast live around the world and memorialized in the play, All the President's Men.
** Refuse Fascism Has Joined with Every Major Protest: We have participated in every major protest – and countless smaller protests – across this country since the Trump/Pence Regime has been in power, strengthening them and bringing in the demand to drive out the Trump/Pence Regime in the name of humanity.  These include: the Women's March, the airport protests against the Muslim Ban, many immigrant rights mobilizations, the March for Science, the People's Climate March, the March for Truth, the Tax March, the resistance when fascists targeted Berkeley, and many more.
** National Organizing Tour to Drive Out the Trump/Pence Regime: For over a month, a team of volunteers traveled all the way down the East Coast, through the Deep South, down to the U.S./Mexico border, and then back up to the universities of the North East, speaking, reaching out, protesting, and organizing people to stand up and join the movement to drive out the Trump/Pence fascist regime.
** Holocaust Remembrance Day: On April 24, Refuse Fascism and others, including descendants and relatives of Holocaust survivors, organized deeply moving actions and processions in several cities that declared "1933 – 2017 Never Again! Drive Out the Fascist Trump/Pence Regime, and expressed determination to oppose and stop Trump's demonization of and assaults on Muslim and other immigrants.
** National Emergency Teach-In on Fascism in America: On April 27, we held a nationally livestreamed teach-in called, "Fascism in America: Could It Happen Here? Is It Happening Here? What Is the Danger that the Trump/Pence Government Poses?" featuring Rita Dentino of Casa Freehold and the National Day Laborers Organizing Network, George Prochnik of the New Yorker, Kieran Suckling of the Center for Biological Diversity, and Andy Zee of Revolution Books and Refuse Fascism.
** Spearheading Emergency Protest Nationwide: We have spearheaded and led emergency protests against major fascist developments of the Trump/Pence Regime – powerfully disrupting the normalization of fascism and continually working to bring forward the millions to drive the fascist Trump/Pence Regime from power.  This has included mobilizations across the country after Comey was fired; rallies uphold the Portland Heroes after two men were killed and another hospitalized for stopping a white supremacist who was threatening teenage women on the train, emergency counter-protests against anti-Muslim rallies nationwide, standing up to the fascists in the "Battle for Berkeley" and much more.
** Media Coverage: Refuse Fascism has appeared in the NYTimes, Fox News, CNN, MSNBC, Al Jazeera, Mic.com, Common Dreams, Amsterdam News, The LA Times, and countless other media outlets.  Images of our main sign, "NO! In the Name of Humanity, We REFUSE to Accept a Fascist America" have become one of the most ubiquitous images in protest footage all over the country in recent months.
About this website:
Photos of Trump protest used on this site and on our social media include images by Fibonacci Blue and by Anthony Albright via Flickr, Creative Commons license.
This web site may contain copyrighted material the use of which has not always been specifically authorized by the copyright owner. We are making such material available in our efforts to advance the understanding of humanity's problems and hopefully to help find solutions for those problems.
We believe this constitutes a 'fair use' of any such copyrighted material as provided for in section 107 of the US Copyright Law. In accordance with Title 17 U.S.C. Section 107, the material on this site is distributed without profit to those who have expressed a prior interest in receiving the included information for research and educational purposes. A click on a hyperlink is a request for information.
Consistent with this notice you are welcome to make 'fair use' of anything you find on this web site. However, if you wish to use copyrighted material from this site for purposes of your own that go beyond 'fair use', you must obtain permission from the copyright owner.
You can read more about 'fair use' and US Copyright Law at the Legal Information Institute of Cornell Law School.
Contact the editor at web AT refusefascism.org.