---
GET STARTED, JOIN IN → DONATE →
RefuseFascism Mission Statement
July 2021
RefuseFascism.org exposes, analyzes, and stands against the very real danger and threat of fascism coming to power in this country. Seventy-four million people voted for Trump in 2020. The Republi-fascist Party has been purged of dissenting voices. The mass fascist movement has hardened in the wake of their January 6 coup attempt. Fascist initiatives around restricting voting, immigration and abortion rapidly advance in statehouses across the country. The election of Biden has not eliminated the danger, it has only bought some time.
Fascism is not just a gross combination of horrific reactionary policies. It is a qualitative change in how society is governed. Once in power, fascism's defining feature is the essential elimination of the rule of law and democratic and civil rights. Fascism foments and relies on xenophobic nationalism, racism, misogyny, and the aggressive re-institution of oppressive "traditional values." Truth is obliterated and fascist mobs and threats of violence are unleashed to build their movement and consolidate power.
The Democratic Party will not stop this nightmare. Trump, fascist Fox News, and the Republi-fascist Party have branded them as enemies and "traitors." Yet, the Democratic Party will consistently pull to try to work with, conciliate with and collaborate with them. There can be no reconciliation with fascism except on the terms of the fascists. Fascism must be resolutely opposed.
RefuseFascism.org unites with people from diverse perspectives to sound the alarm and prevent the consolidation of this American fascism. Through our website, podcast, social media, and publications we engage, dialogue and debate with a broad array of writers, scholars, legal experts and people from different walks of life to educate people on the roots, nature, trajectory of the real and present danger of fascism. And, through our engagement and networking with people and social movements we are forging understanding and relationships aimed at preventing the consolidation of fascism.
Since the founding of RefuseFascism.org our stand and resolve have not wavered:
We pledge to the people of the world:
In the Name of Humanity, We Refuse to Accept a Fascist America!
---
The very real danger and threat of fascism coming to power in this country
September 21, 7-9 PM ET
Abortion Rights Emergency Town Hall
Live on @WBAI & @WPFWDC
Co-sponsoring with the RNL Show, hosted by @SunsaraTaylor
Watch / share on Facebook or Instagram
Stay tuned for more!
---
Sam Goldman in conversation with Sunsara Taylor and Coco Das:
by Coco Das
---
Listen! Share! Promote the Refuse Fascism Podcast
LISTEN ON Spotify, Apple, Google or other podcast platorms
SUBSCRIBE: Do not miss an episode
The Refuse Fascism podcast, featuring commentary on the latest events and interviews with scholars and activists from many different perspectives, is an essential tool for understanding and uniting to stop an American fascist movement that imperils all of humanity. When we began this podcast, the Trump/Pence fascist regime was tightening its grip on society; we called the podcast "Inside With #OutNow" as the movement to get these fascists out became all the more urgent. Throughout all of this we have mobilized people to act in the name of humanity.
Produced and brought to you by volunteers with RefuseFascism.org. Hosted by Sam Goldman.
Sam is in conversation with anthropologist Dr. Nazia Kazi who wrote What We Forget, a piece commemorating the global aftermath of 9/11 illustrated by Anuj Shrestha.

MORE / SHARE
A few days after the Supreme Court refused to block the extreme Texas abortion ban, Sam Goldman, Coco Das and Sunsara Taylor discuss the roots and ramifications of this dangerous new law. All abortions, without exception for rape or incest, are now illegal just two weeks after a first missed period; plus vigilantes are incentivized to hunt down not only those who seek abortions but anyone who assists.

MORE / SHARE
Understand, STOP this American Fascism
Fascism is not just a gross combination of horrific reactionary policies. It is a qualitative change in how society is governed. …What is crucial to understand is that once in power fascism essentially eliminates traditional democratic rights.
– READ MORE
Refuse Fascism
What is Refuse Fascism?
RefuseFascism.org was initiated on an emergency basis in the wake of the election of Trump and Pence in 2016. Our founding mission called on all who recognized the catastrophic danger of the Trump/Pence regime to unite and organize to drive the regime out of power through sustained, non-violent mass protest.
We pledged to the world that we would not stand aside while there was still a chance to stop a regime that imperiled humanity and the earth itself.
With our slogan: In the Name of Humanity, We REFUSE to Accept a Fascist America!
And our single unifying demand: The Trump/Pence Regime Must Go!
Co-initiator of Refuse Fascism Cornel West on the impact of the analysis and work of Refuse Fascism over the past five years
It was the Refuse Fascism movement … that has put fascism on the map for the past five years. And that needs to be said!
A Pledge to the People of the World
The Refuse Fascism Pledge to the People of the World: In the Name of Humanity, We REFUSE to Accept a Fascist America must resonate far and wide and become not only a needed political and moral compass, but the organized expression of a network ready to act with nonviolent determination to not allow fascism to grow and dominate and terrorize humanity. We remain vigilant. We Pledge: In the name of humanity, we refuse to accept a fascist America.
DONATE to reach MILLIONS with this PLEDGE
JOIN Nana Adjei-Brenyah; Sharbari Ahmed; Gina Apostol; Rosanna Arquette; Medea Benjamin; Fat Mike Burkett; Peter Carey; Andrea Chalupa; Noam Chomsky; Michael Coard; Chuck D; Carl Dix; Ashley Dawson; Iris DeMent; Anthony DiMaggio; Martin Espada; Shepard Fairey ; Norwood Fisher; Frances Fisher; Henry Giroux; Lalah Hathaway; Joshua Holland; Abeer Hoque; Vijay Iyer; Rev. Dr. Jeffrey Kuan; Zoe Lister-Jones; Makaya McCraven; Bobbi Salvör Menuez; Alyssa Milano; Jessica Care Moore; Kathy Najimy; Naomi Shihab Nye; Arturo O'Farrill; Dread Scott; Jason Stanley; David Strathairn ; Chrissy Stroop; Jodie Sweetin; Tony Taccone; Laura van den Berg; Lilly Wachowski; Ayelet Waldman; Cornel West; Andy Zee; David Zeiger and many others – MORE SIGNERS. Add your name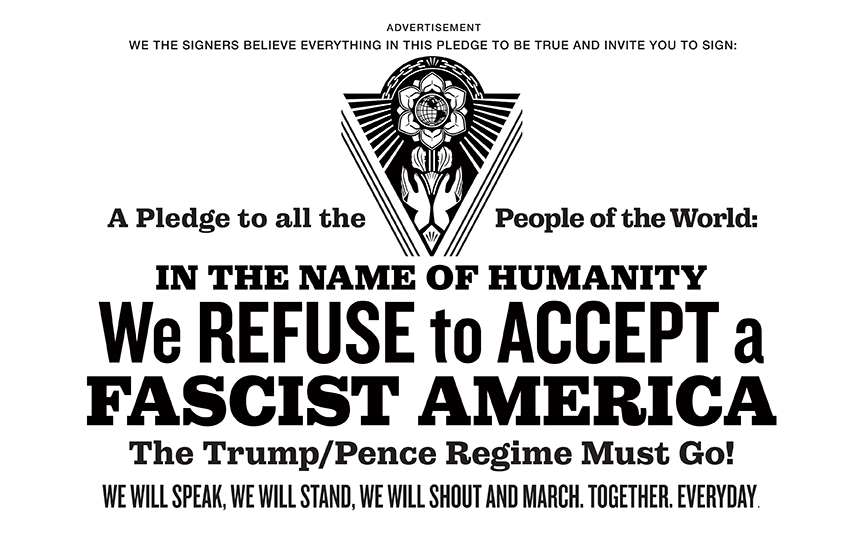 DONATE to project this pledge in social media and beyond
DONATE
Venmo: Refuse-Fascism
CashApp: RefuseFascism
Read why people signed The Pledge →
A Pledge to The People of the World: We Refuse To Accept a Fascist America
YOU can do this