TRUMP/PENCE #OUTNOW!
A month of flash protests, banner drops, rapidly responding to sharp political events, and other actions to disrupt the advance of fascism, disturb the normalization and complicity of those who oppose Trump/Pence but are passively going along, and build the movement to drive the regime from power.
The Trump/Pence regime poses a catastrophic danger to humanity. Concentration camps on the border… environmental devastation accelerated… war, even nuclear war, casually threatened… white supremacist rule… fascist mobs and racist mass murderers… truth and science erased… the right to abortion near gone… the rule of law and democratic and civil rights stripped away… THIS IS FASCISM UNFOLDING AND IN POWER.
As the impeachment hearings move towards possible conclusion, sharp political lines are drawn with high stakes. Trump has declared the entire lawful process illegitimate and worked with Republicans to defy and obstruct it. Yet, to date, the Democratic leadership has all but conceded that Trump will not be removed by the Senate. Further, they refuse to impeach on the basis of Trump's full fascist program, thereby leaving intact and even legitimating these crimes.
What can change all of this? WE CAN – the power of the people taking to the streets in sustained non-violent protest, raising the unifying demand: Trump/Pence #OUTNOW! And then, continuing week after week across the country, growing in numbers and determination until our demand is met. THIS IS THE WAY TO REMOVE THE TRUMP/PENCE REGIME. At this moment of peril, celebrate this holiday season by struggling together, overcoming all that divides us, and transforming dread for the future into hope for humanity. Let this be the joy of the holidays.
Trump and Pence Need to be #OUTNOW!
---
November 22: Berkeley #OUTNOW Disrupters and Andy Zee on the Michael Slate Show:
This is Brandy!

She was brutally arrested at UC Berkeley for calling Ann Coulter a Nazi. Then held in jail overnight on $60,000 bail & had to pay $3000 to get out. Now she's being charged & facing 3 years in jail!

Funds needed! Please donate & share: https://t.co/gvAR84nbJK pic.twitter.com/yPgHQn5V6t

— Trump/Pence Must Go NOW—#OutNow (@RefuseFascism) November 22, 2019
Guest editorial from Scott Gilbert
…We must let people know that just putting a "thumbs up" hand signal or saying "I agree with you" when they pass us carrying a Trump/Pence Out Now! sign while they say they hate Trump and all he represents does not cut it.  It will not stop the juggernaut of fascism.  This is unacceptable complacency.
– Read the article
---
by Scott Gilbert
With most of the focus on Trump, Mike Pence and the religious right do not get much press. Yet, they are instrumental in what is happening in the White House… – Read more
---
From Coco Das
---
From Sarah Roark
Removing Trump and Pence from office as soon as possible is not just a national but a planetary emergency – Read more
---
---
From Sarah Roark
Reprinted from Women's eNews
Well, it's finally happened, to the relief of a wide range of people, from Nancy Pelosi's most vitriolic critics to her most loyal loyalists: the House is officially opening impeachment proceedings. This matters. A lot… Nevertheless, we're in a supremely perilous moment now and we'd be fools not to recognize it. – Read More
---
Andy Zee's speech to mass meetings of Refuse Fascism in early October makes the case for sustained nonviolent mass protest that began in October, taking to the streets in non-violent protest, week-after-week, becoming day-after-day, not stopping until the single unifying demand is met: THE TRUMP/PENCE REGIME MUST GO – NOW!
December will be a highly charged month that will present both the necessity to speak and act in response to breaking events, and the opportunity to advance the #OUTNOW! Movement as this is the one program that could actually remove the Trump/Pence regime from power. [1] The impeachment of Trump will be moving to a new stage—with sharpening conflict at the highest levels. [2] There will be a ratcheting up of outrages from Trump and the regime. [3] There will be increased focus on the Democratic primaries in early 2020 which will divert all too many people from actively confronting the sharpening situation with the intensification and consolidation of the Trump/Pence fascist program and rule. – READ THE PLAN to advance and build the #OUTNOW! movement
---
WATCH NOW: Thursday, December 5,  Refuse Fascism Webinar with a live New York audience and Q&A with Andy Zee on The catastrophic danger to humanity posed by the Trump/Pence regime, and why that requires nothing less than the determined sustained struggle of the #OUTNOW! movement.
---
A Report from the Refuse Fascism National Meetings
On November 24, RefuseFascism.org held meetings in over a dozen cities, bringing together more than 250 people from diverse backgrounds and political viewpoints. Together, organizers new and old grappled with the big questions of what was accomplished through the five weeks of protest which launched the #OUTNOW Movement, and how to build on this beginning to go forward to drive the whole Trump/Pence regime from power through massive, sustained, nonviolent protest.
– Read the report
---
Michael Slate Show 11/29: The Need to Remove This Regime from Below, Next Step: Dec 14
Andy Zee, a co-initiator of Refuse Fascism, outlines the emergency humanity faces, the actions held by #OUTNOW! in November, and breaks down how December disruptions leading up to a centerpiece of protest on December 14, can challenge normalization and push things towards bringing the massive numbers into the street needed to drive out this regime through sustained, nonviolent protest. – sharable link
---
The interview with Andy Zee is part of an episode of the Michael Slate what that includes an interview Paul Street, author of Beyond Impeachment: Remove This Regime from Below …
---
"Could it really happen here? Is the Trump/Pence Regime bringing American fascism? Is silence complicity?"
Watch this teach-in held Wednesday, December 4 at UCLA
---
The #OUTNOW Movement Has Been Born –
Now It Must Grow By Leaps and Bounds to Achieve This Demand:Trump/Pence #OUTNOW!
---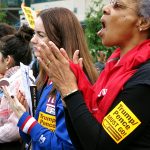 The people, who have the courage and insight to join this effort in a phase when so many others still remain inert, are the ones who can be forged into the strong core our organization needs: a core resilient enough to multiply in stage after stage, until the full numbers are achieved that we know we must have to make our inescapable need and demand a reality: Trump/Pence Out Now! In the name of humanity, we refuse to accept a fascist America! – Read the article
ORDER NOW:
Refuse Fascism beanies, stickers and more here, shirts and hoodies here
---
#OUTNOW News
A holiday fundraising challenge from Sarah Roark, Refuse Fascism Editorial Board
In a season of giving, there's just one present we yearn to give to the people of the world and of the United States: liberation from the Trump/Pence fascist regime that is busily cementing its capture of the planet's biggest nuclear superpower.
This is why I am writing to ask you to give generously to sustain the #OUTNOW Movement to drive the Trump/Pence regime from power, over these holiday weeks and going forward.
---
---
---
Refuse Fascism Press releases
Find the latest official press releases from RefuseFascism.org here.
---
Refuse Facism and the Revolution Club in Los Angeles Targeted by LAPD, District Attorney and UCLA – STAND WITH THEM
After facing 2 years for calling out Mnuchin at UCLA: NOT GUILTY VERDICT!

10/11/2019: Today a jury in West LA returned a not guilty verdict in the trial of the UCLA5. This is an important victory for the people – for the millions who hate the Trump/Pence Regime and who want to see them OUT NOW! – Read the press statement from the acquitted defendants. 
Call City Atty Mike Feuer 213-978-8100 or message @Mike_Feuer.  SIGN THE PETITION: Drop The Charges Against Members of Refuse Fascism and Revolution Club!
> Stay tuned at @revclub_la or @refusefascismla
---

By MIGUEL ALEX ANTONIO AND CHANTELLE HERSHBERGER
– Read and share this op-ed piece in the LA Times
---
Voices Calling for #OUTNOW
Cornel West calls for #OutNOW! on CNN DON LEMON 10/22
"If things don't work the way the system is, we gotta hit the streets, we gotta go to jail. That's exactly what #OutNow is all about. Next Saturday, every Saturday, it's going to be like Puerto Rico, it's going to be like Hong Kong. The people have to speak with their feet…"

Sharonne Salaam: Let us not go back to before slavery, let us not go back to the massacre of the Native Americans
Unite All Who Can Be United – Defeat "Divide and Conquer"
Don't allow the ruling forces, or any other forces, to divide us or pit us against each other.
– read more
Bob Avakian, in his filmed talk on the Trump/Pence regime, addresses these questions with a penetrating scientific approach, and a depth of compassion that is unique.Watch the entire talk here.
---
RefuseFascism.org is a movement of people coming from diverse perspectives, united in our recognition that the Trump/Pence Regime poses a catastrophic danger to humanity and the planet, and that it is our responsibility to drive them from power through non-violent protests that grow until our demand is met: This Nightmare Must End: The Trump/Pence Regime Must Go! We welcome individuals and organizations from many different points of view who share our determination to refuse to accept a fascist America, to join and/or partner with us in this great cause.