It's on: The Struggle for the Future
Will it be fascist
Or, will we act on our conscience?
October 3rd We Begin
Non-Violent Protests that Continue Day After Day
From Now Through the Elections
United by the Demand:
Trump/Pence OUTNOW!
We face a rolling coup barreling to a showdown on November 3rd. The Trump/Pence regime has said and shown that they will not abide by an election they lose.
It is the regime—Trump, Pence, Barr—who have raised the specter of insurrection and sedition. It is the regime that is tearing up the rule of law. It is the regime that demonizes and brutalizes immigrants, Black people, Latinos, Native Americans, women, LGBTQ people, the media and peaceful protesters. It is the regime that opposes science, leading to a country and a planet burning and drowning, and to unconscionable unnecessary death and illness from COVID.
We face a critical crossroads. The hour is late, but not too late. Relying only on our voting will lead to disaster. The Trump/Pence regime is subverting the election now and preparing to nullify it.  Waiting to act till they do so will be too late.
Trump's MAGA mobs maraud around the country in water and land caravans; they murder protesters and innocent people by guns and by their cars. They spread COVID. They are inflamed with passionate reactionary intensity.  All for the purpose of rousing their followers and intimidating and demoralizing all who should be standing up for justice.  
Now we must act. Beginning Saturday, October 3rd, gather and bring your family, friends, and community into the public squares of cities and towns across the country in non-violent protest unified by the demand: Trump/Pence OUTNOW!  And, come back in waves, day after day. This is possible. We saw this in June and early July where people came out every day for justice for Black Lives. Now, that struggle, and every struggle, and the lives of millions of people hang in the balance. In our diversity, with our multiplicity of causes and demands we must come together and reach out to others to join us, recognizing that should the Trump/Pence regime remain in power it will be a disaster for every just cause, and most of all, for the lives of people here and around the world.
We will act on our principles, modeling the world we aspire to in contrast to the bigotry and hatred of this fascist regime. We will act together with creative joy and with the conviction and courage of standing together not only for ourselves but for all humanity.
In the Name of Humanity, We Refuse to Accept a Fascist America!
– An Open Letter to the Medical Community and All Frontline Workers, Please Read, Sign and Share: Trump's COVID-19 Response Represents a Grave Danger to Public Health; his regime must go now
---
September 21: MARCH AGAINST DEATH, LIES, AND FASCISM AND

FOR

HUMANITY! – Sights & sounds
On the Death of Ruth Bader Ginsburg: No Fascist Supreme Court! Protest every day in October: Demand Trump/Pence Out Now!
This Nightmare Must End:
The Trump/Pence Regime Must Go NOW!
In the Name of Humanity, We REFUSE to Accept a Fascist America.​
Subscribe to the Podcast from Refuse Fascism volunteers: Inside with Out Now on Spotify, Apple, Google or other podcast channels
Volunteer to work with Refuse Fascism
4 Key Resources
Join Arturo O'Farrill, Jodie Sweetin, Cornel West, and others in adding your name to the pledge
It's On! 60 Days of Struggle Demanding "Trump/Pence Out Now" Launched
A short film, produced by The RNL– Revolution, Nothing Less! – Show
A commentary from Andy Zee, a co-initiator of RefuseFascism.org and host of The RNL Show.​
BE PART OF REMOVING THE TRUMP/PENCE REGIME
The movement to bring millions into sustained, non-violent protest to drive out the dangerous and illegitimate Trump/Pence regime depends on people like YOU getting involved and getting on a mission. At his late hour, we have the responsibility, and TOGETHER have the power to stop a regime that threatens the future of humanity and the earth itself.
How Fascism Works & How To Stop It
A Dialogue with Andy Zee & Jason Stanley
Wednesday, September 30, 7:00 PM – 9:00 PM EDT
Sponsored by Revolution Books and the Brooklyn Book Festival
An Online Bookend and Cultural Partner Event – Information Here
We are uniting, we are organizing, we are determined, we are preparing to struggle with all we've got, starting now and not stopping until the Trump/Pence regime is driven from power and its fascist program brought to a halt.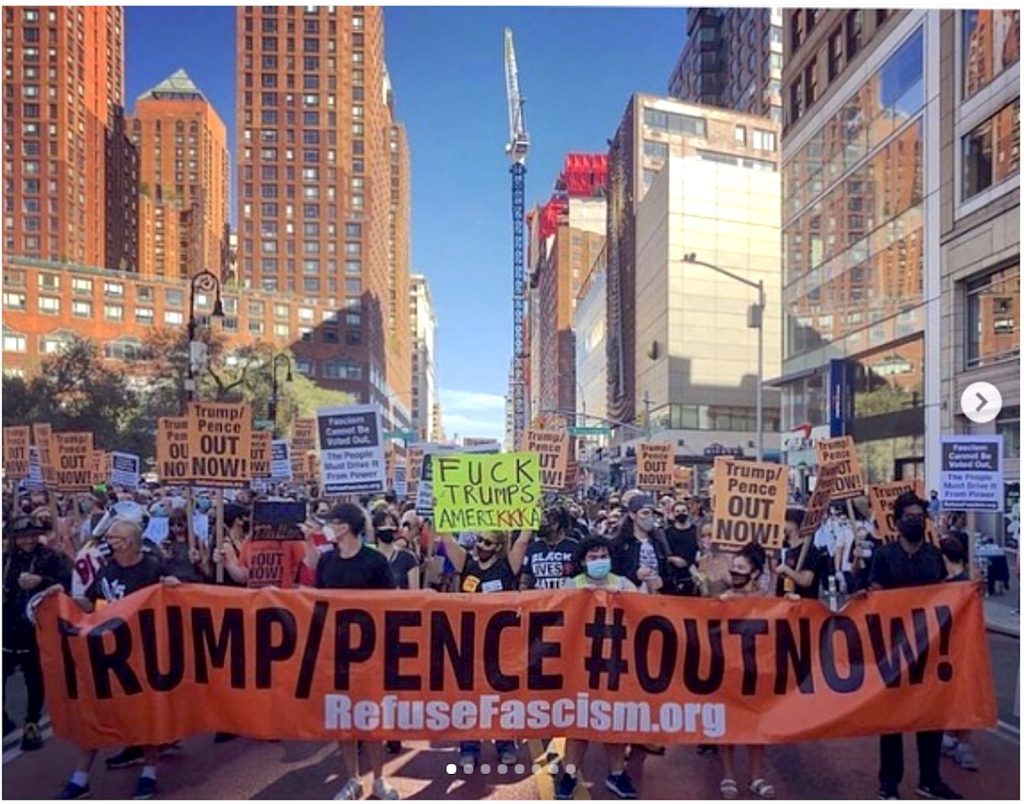 ---
…Imagine what it would mean if this regime were driven from power by the united action of hundreds of thousands and millions of people, the sense of possibility of changing the world in whatever way each of us think that should be, would be greatly heightened. The unity between people would be heightened. The potential to wrench something different out of this would be greatly strengthened. And so it's not just the negatives of a fascist regime, which is about as negative as you can get — but it is the beauty and the power of the people prevailing over such a reactionary and vicious and vile regime that will inspire people, not just here, but around the world.
– Read more
We will not remain silent. Trump and Pence must go now, and the medical community must be among the most determined voices calling for their removal.
THIS IS AN EMERGENCY
This IS Fascism Unfolding. We mustn't become numb to the constant torrent of atrocities. Instead, they must fuel our determination to act on what we know.
This week, legendary Watergate journalist Bob Woodward released a recorded conversation in which Trump confessed that he deliberately played down the danger of COVID-19 to "not cause a panic." … You now are also sitting on this information, and if you're still not demanding Trump's immediate removal from power and joining with people who are in the streets voicing their refusal to go along with this vicious murderous program, after 190,000 people have already died, you need to stop pointing your finger at Woodward and look in the mirror.– Read the article
Rev Frank Wulf: October 3 It Begins – This is the Time We Really Do Refuse Fascism
---
DON'T WAIT! We Must Mobilize NOW!
Produced by the RNL Show
Joshua Shanes, Professor of Jewish Studies, speaks at Refuse Fascism Chicago's March Against Death, Lies, & Fascism Rally!
What Is REFUSE FASCISM, What Is #OUTNOW!
The world as we have known it is being torn asunder. We must cast off fear and passivity and rise up together to drive out the Trump/Pence regime.
–
Voices of conscience and courage on the threat the Trump/Pence regime poses to humanity
---
The Bible Must Not Be a Prop for Evil!
Rev. Michael Woolf calls religious leaders to speak against Trump.
---
Subscribe to the Podcast from Refuse Fascism volunteers: Inside with Out Now
---
Hoodies, t-shirts, beanies, buttons, stickers…
---
---
---
RefuseFascism.org is a movement of people coming from diverse perspectives, united in our recognition that the Trump/Pence Regime poses a catastrophic danger to humanity and the planet, and that it is our responsibility to drive them from power through non-violent protests that grow until our demand is met: This Nightmare Must End: The Trump/Pence Regime Must Go! We welcome individuals and organizations from many different points of view who share our determination to refuse to accept a fascist America, to join and/or partner with us in this great cause.
---