RefuseFascism Mission Statement
July 2021
RefuseFascism.org exposes, analyzes, and stands against the very real danger and threat of fascism coming to power in this country. Seventy-four million people voted for Trump in 2020. The Republi-fascist Party has been purged of dissenting voices. The mass fascist movement has hardened in the wake of their January 6 coup attempt. Fascist initiatives around restricting voting, immigration and abortion rapidly advance in statehouses across the country. The election of Biden has not eliminated the danger, it has only bought some time.
Fascism is not just a gross combination of horrific reactionary policies. It is a qualitative change in how society is governed. Once in power, fascism's defining feature is the essential elimination of the rule of law and democratic and civil rights. Fascism foments and relies on xenophobic nationalism, racism, misogyny, and the aggressive re-institution of oppressive "traditional values." Truth is obliterated and fascist mobs and threats of violence are unleashed to build their movement and consolidate power.
The Democratic Party will not stop this nightmare. Trump, fascist Fox News, and the Republi-fascist Party have branded them as enemies and "traitors." Yet, the Democratic Party will consistently pull to try to work with, conciliate with and collaborate with them. There can be no reconciliation with fascism except on the terms of the fascists. Fascism must be resolutely opposed.
RefuseFascism.org unites with people from diverse perspectives to sound the alarm and prevent the consolidation of this American fascism. Through our website, podcast, social media, and publications we engage, dialogue and debate with a broad array of writers, scholars, legal experts and people from different walks of life to educate people on the roots, nature, trajectory of the real and present danger of fascism. And, through our engagement and networking with people and social movements we are forging understanding and relationships aimed at preventing the consolidation of fascism.
Since the founding of RefuseFascism.org our stand and resolve have not wavered:
We pledge to the people of the world:
In the Name of Humanity, We Refuse to Accept a Fascist America!
---
The very real danger and threat of fascism coming to power in this country
The Trump/Pence regime is out of power, but 2021 has shown us that Trumpism – a virulent 21st century fascism based on white supremacy, misogyny, and xenophobia – is far from defeated.
This round table sounds the alarm on this assault on women's fundamental rights, deepens understanding of the stakes, arouses people's fighting spirit to not let this go down, and explores what kind of future is possible and worth fighting for.
The Rittenhouse Trial and Two Sides in Contention:
by Coco Das
---
By Paul Street
The Rittenhouse defense is glorification of lawlessness in the name of law and order – a key fascist calling card.
---
Andy Zee in Conversation with Paul Street on the Revolution Nothing Less show
Andy Zee is host of the Revolution Nothing Less show, Paul Street is an author, historian. Both are on the Editorial Board of refusefascism.org.
---
Listen! Share! Promote the Refuse Fascism Podcast
LISTEN ON Spotify, Apple, Google or other podcast platorms
SUBSCRIBE: Do not miss an episode
The Refuse Fascism podcast, featuring commentary on the latest events and interviews with scholars and activists from many different perspectives, is an essential tool for understanding and uniting to stop an American fascist movement that imperils all of humanity.
Produced and brought to you by volunteers with RefuseFascism.org. Hosted by Sam Goldman.
Understand, STOP this American Fascism
Fascism is not just a gross combination of horrific reactionary policies. It is a qualitative change in how society is governed. …What is crucial to understand is that once in power fascism essentially eliminates traditional democratic rights.
– READ MORE
Organize / Resist – Resources
Make events to defend the right to abortion as powerful as possible and bring in REFUSE FASCISM's message! Find events / get resources →
Refuse Fascism
What is Refuse Fascism?
RefuseFascism.org was initiated on an emergency basis in the wake of the election of Trump and Pence in 2016. Our founding mission called on all who recognized the catastrophic danger of the Trump/Pence regime to unite and organize to drive the regime out of power through sustained, non-violent mass protest. We pledged to the world that we would not stand aside while there was still a chance to stop a regime that imperiled humanity and the earth itself. With our slogan: In the Name of Humanity, We REFUSE to Accept a Fascist America! And our single unifying demand: The Trump/Pence Regime Must Go!
---
This Pledge to the People of the World, initiated by Refuse Fascism, appeared in the New York Times on November 9, 2020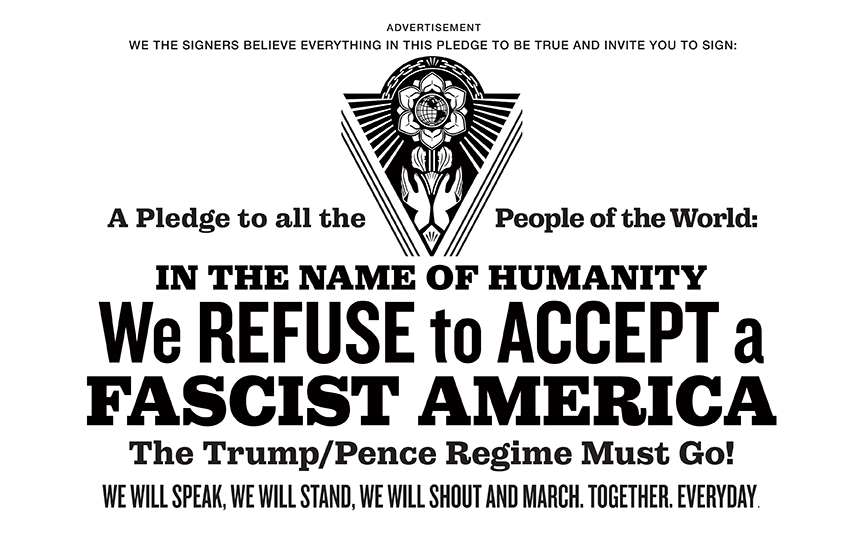 Co-initiator of Refuse Fascism Cornel West on the impact of the analysis and work of Refuse Fascism over the past five years
It was the Refuse Fascism movement … that has put fascism on the map for the past five years. And that needs to be said!
Follow Refuse Fascism on Social Media
---
Subscribe to the podcast REFUSE FASCISM
Produced by Refuse Fascism volunteers
Spotify, Apple, Google or other podcast channels
---