Trump Is Already Stealing the Election.
WE NEED TO VOTE,
BUT TRUMP WILL NOT BE STOPPED JUST BY VOTING!
This is the time to be in the streets demanding
Trump/Pence Out Now!
Breaking News…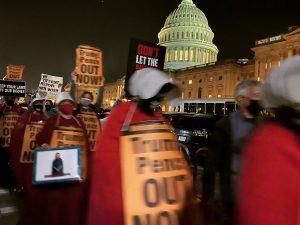 > Defend the right to vote right now: WHITE SUPREMACY + VOTER INTIMIDATION AND VOTE STEALING = FASCISM! TRUMP/PENCE OUT NOW! DEFEND THE RIGHT TO VOTE! –READ MORE
> Sights & sounds of protest demanding OUT NOW!
Trump/Pence OUT NOW!
ACT WHY & HOW THE PLEDGE VOICES
The OUT NOW! movement welcomes everyone who sees the great danger in allowing the Trump/Pence regime to remain in power. See the RefuseFascism.org Call and Pledge for this movement.