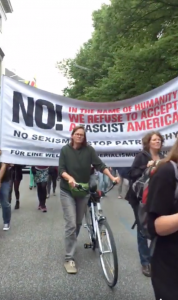 This article first appeared on the site Revolution revcom.us
Tens of thousands of people from all over Europe and beyond have been defiantly protesting in Hamburg, Germany, bringing their demands and their outrage to the G-20 Summit. The G-20 (short for Group of 20) is dominated by the world's most wealthy and powerful governments, and their annual summit is where they get together to compete over and plan how to continue to prey on the people of the world. Many protesters came to confront Trump, who is there representing the U.S., and who is despised, among other things, for his attack on any effort to combat life-threatening climate change and his war on immigrants. One train entered the station with young people hanging out the windows holding up cutout signs with fists and "Stop Trump" painted on them.
The day before the summit was scheduled to begin, 1,000 artists came together from many countries to carry out a powerful performance piece which they say was inspired by "phenomena like Science March, Women's March or Pulse of Europe. We see our performance as part of this movement." All 1,000 artists completely covered themselves in ash and walked around like zombies, "to move the people in their hearts, to give them the motivation to get politically engaged again."
At the same time, just hours before the start of the summit, 12,000 protesters took to the streets in a protest which was called "G20: Welcome to Hell." People carried signs like "Capitalism Kills." Later, a building was covered with a sign saying "Borderless solidarity instead of nationalism: attack the G-20."
Even before the march began thousands of militarized police confronted the protesters and demanded that people wearing masks had to take them off. When the police moved to separate those wearing masks from the rest of the march, all hell broke loose. Police unloaded with high-powered water cannons, pepper spray and batons, claiming they had been attacked with bottles and other objects. For hours, there were skirmishes in the streets.
More than 100,000 demonstrators are expected to be in the streets over the next two days.