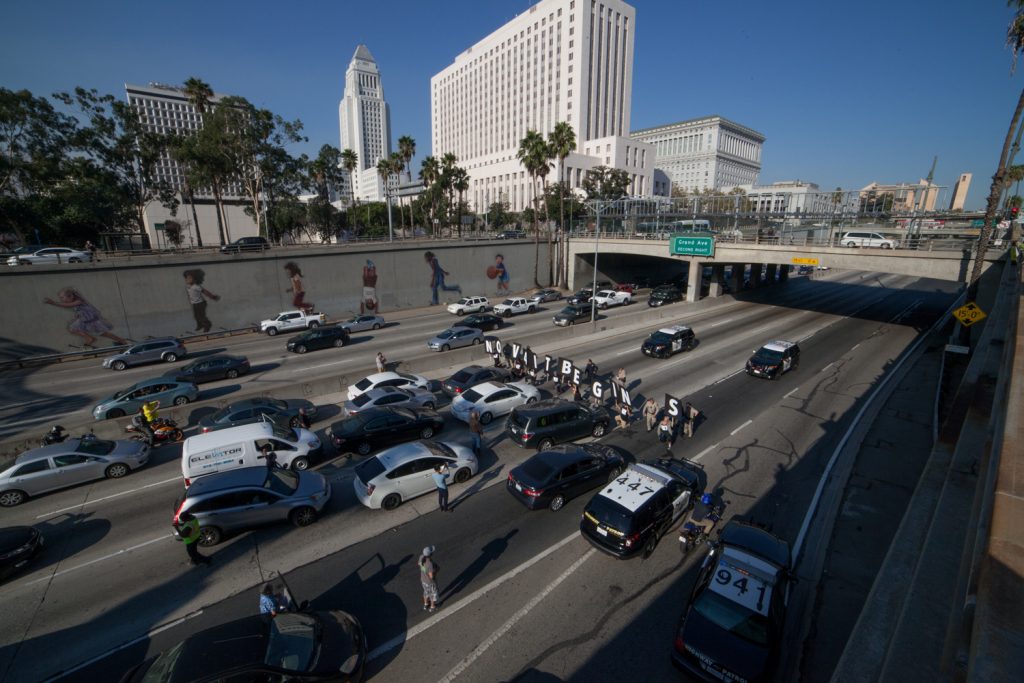 Updates / Upcoming Events
INVITE EVERYONE YOU KNOW IN LA!  SPREAD THE WORD!
---
Maya's case:
PACK THE COURTROOM!
Tuesday, June 25 @9:30 am
Cook County Criminal Courthouse
2650 S. California, Chicago
Weeks before the Trump/Pence regime was sworn into power in 2017, RefuseFascism.org launched a national movement with the declaration: In the Name of Humanity, We REFUSE to Accept a Fascist America! RefuseFascism.org continues to stand out for recognizing that: "Trump's 'Make America Great Again' is a 21st century fascist program of Manifest Destiny—'America First'—wrapped in the flag and Mike Pence's Bible taken literally, with a program of white supremacy, misogyny, and xenophobia."
For over two years, RefuseFascism.org (RF) has worked tirelessly to arouse the millions in this country who hate and fear what this regime is doing to break out of politics-as-usual—organizing people and organizations from a diverse range of political views behind the single unifying demand: This Nightmare Must End: The Trump/Pence Regime Must Go! To accomplish this goal, which is necessary to prevent the further and full consolidation of a fascist form of rule, also requires breaking out of protest-as-usual—organizing a movement to launch sustained nonviolent protest across the country that begins with many thousands and grows day after day to soon include hundreds of thousands and eventually millions of people who do not stop, creating a political situation where the demand that the whole illegitimate regime is removed from power.
To this end, RF's iconic "NO!" posters have been ubiquitous at protests and beyond. Recognizing that the whole regime is the problem—Pence as well as Trump—and that the problem is not a single policy or outrage, but the whole fascist program and direction, RF activists have repeatedly put their bodies on the line to politically confront representatives of the regime and to challenge others to join the fight to drive out the regime. The analysis and courageous actions of members of RF—including nationwide protests in over 20 cities in November of 2017, which attempted to launch the sustained and growing outpourings to drive the regime from power, have challenged, inspired and strengthened people's resistance to this regime across the country and around the world.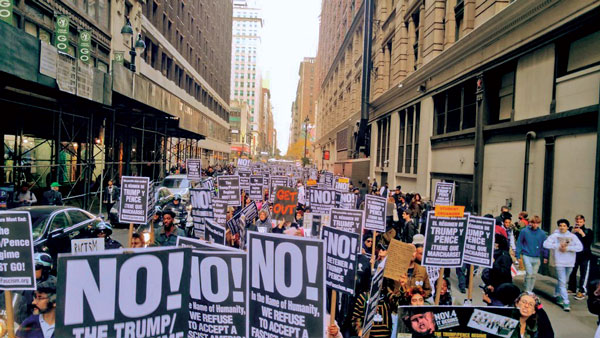 For this, RF has been hounded by fascists of many stripes. Early on, for example, fascists doxxed (systematically tracked down and published personal details of) thousands of people who signed RF's initial Call to Action published as an ad in the New York Times and Washington Post, opening them up to fascist harassment. Later, influential fascist media (Alex Jones and many others) spent weeks pumping out dangerous lies about Refuse Fascism's call for protest on November 4, 2017, provoking countless threats and hundreds of armed fascists showing up to threaten and intimidate RF protesters.
RefuseFascism.org has also been hit with heavy political repression from the state.
Twelve members of Refuse Fascism, some of whom are also members of the Revolution Club, currently face criminal charges and up to seven years in prison for engaging in nonviolent political protest.
For 11 of these individuals, charges stem from two separate nonviolent civil disobedience actions which blocked traffic on the 101 Freeway in Los Angeles, and from nonviolent speech during an appearance of Steve Mnuchin at UCLA. Viral video of these different protests has been seen by millions (LA freeway protests here and here; Mnuchin protest here, here, and here). For many months—in some cases for nearly a full year — these activists were not charged with any crime at all. Then suddenly, within just a few weeks and just before the clock ran out on the time frame to indict, the LA city attorney hit activists from these different protests—which took place months apart—with heavy criminal charges. Key leaders were charged for actions they either hadn't been arrested for or hadn't even taken part in!
UPDATE 1/21/19 from
LAPD's Surveillance Exposed in LA11 Political Prosecutions: Secret Police Stalk and Spy on Refuse Fascism and the Revolution Club
| Revolution Newspaper | revcom.us
In addition to bringing a range of criminal charges against those who participated in the civil disobedience on the freeway, the city attorney also filed misdemeanor charges of "criminal conspiracy" against two of the leaders of Refuse Fascism, Michelle Xai and Perry Hoberman.
Historically, conspiracy charges have been used to go after political leaders and amount to making it illegal to be part of organizing—or sometimes even discussing—a political protest beforehand.
In an important victory, just this past week, the state was forced to drop the conspiracy charges. However, the fact that these charges were being prosecuted further highlights the political nature of these attacks. One of the ATD reports shows that they wanted to file FELONY conspiracy charges and contacted the LA County District Attorney's Office (which is responsible for prosecuting felony cases) about this. The ATD detective concluded that "using a misdemeanor offense of Criminal Trespass to charge a felony Conspiracy is contrary to the spirit of the law where First Amendment freedoms are concerned. For this reason, I would ask that the Criminal Conspiracy be charged only as a misdemeanor."
By the LAPD's own admission, the freeway actions were First Amendment-protected political acts. So how are misdemeanor conspiracy charges any less contrary to the right to political protest than felony conspiracy charges? This is bullshit. While there is a difference in penalty, First Amendment freedoms are supposed to be protected, not criminally prosecuted on any level!
There was no justification for these bogus charges in anything the state has provided except for the fact that Michelle and Perry are well-known leaders of Refuse Fascism. This is why they were singled out—and in its report, the state has basically said as much.
Michelle and Perry's lawyer demanded that the LAPD turn over information about the informant, including his identity so he could be called as a witness in the cases. The court agreed and ordered that these files be turned over. Instead of complying with the court's order—which would uncover more details about this informant and the level of political surveillance—the city attorney dropped the conspiracy charges against Perry and Michelle!
While this is an important victory, the other defendants are demanding that this information be turned over as it is essential to all these cases.
---
Watch this space for new developments in all the cases
It has further come to light that the Los Angeles Police Department sent a police informant into Refuse Fascism who surreptitiously and illegally recorded activists. UCLA police systematically surveilled and filmed members of the Revolution Club for weeks leading up to the brutal arrests of their members on February 26, 2018.
For the other individual, Maya, charges stem from an arrest that took place after she had finished a nonviolent silent protest which lasted just 11 minutes—for 11 million undocumented immigrants—at the University of Chicago. Chicago police brutalized and arrested this activist as she was leaving the campus and now she faces up to seven years in prison!
The arrests and legal persecution of these 12 freedom fighters are unjust and illegitimate. With a fascist regime in power, tearing up what are supposed to be protected civil and legal rights, and ruling through increasingly open terror and violence, these protests were needed and they were right. They were meaningful forms of nonviolent civil disobedience and, on a changing political and legal ground, forms of what is supposed to be protected speech!
As longtime American-Salvadoran and immigrant rights activist Isabel Cardenas has written: "If more Germans and Jews in Nazi Germany had done what these defendants have done (and are doing), millions of lives could have been saved. This country needs people such as those who have been criminally charged so that those who have no voice may have someone with the courage to defend them. They are striving to save us all from THE TRUMP-PENCE NIGHTMARE so that we—billions of us on the planet earth, including millions of Immigrants who helped to build this country—may stop enduring the madness that goes on in the White House."
The political persecution of these freedom fighters involves an escalation of the criminalization of political protests and a leap in state repression, which is a key element of the very fascism these activists are fighting.
We call on everyone who values the right to speak critically of the government and to mobilize political protest aimed at stopping the nightmare of the Trump/Pence regime to join in demanding: STOP THE POLITICAL PERSECUTION AND DROP THE CHARGES AGAINST REFUSE FASCISM ACTIVISTS!
We further call on everyone to heed the challenge and example of these courageous activists and join the movement to drive out the fascist Trump/Pence regime regime.
---
Free the LA 11!
Follow the cases and how to get involved on Facebook
---
Free Maya!
Follow Maya's case and developments and learn how to help free Maya on Facebook

Maya's next court date: On Feb 27, her legal team submitted request for discovery (demanding the prosecution turn over information necessary for her legal defense). Next court date is April 3rd.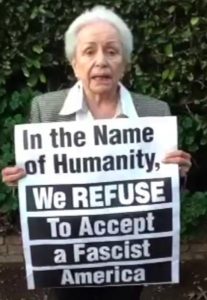 Isabel Cárdenas Statement in Support of Maya
Maya faces seven years in prison for a SILENT PROTEST IN SUPPORT OF IMMIGRANTS. Meanwhile the demonizing, verbal and physical attacks on immigrants have escalated since the Trump/Pence Regime was imposed on the citizenry of this country by the Electoral College Vote. First it was DACA, now immigrant families who search for a life free of poverty and so much violence by seeking asylum in this country are, instead, having their children Caged, Tortured, and Sexually Abused by ICE, following orders of the Trump/Pence Administration.
The last phrase in the U.S. Pledge of Allegiance states "ONE NATION UNDER GOD, INDIVISIBLE, WITH LIBERTY AND JUSTICE FOR ALL."  Neither what is stated in the Pledge of Allegiance nor the Constitution is now being practiced or respected! There is no Liberty or Justice when citizens of a particular group such as Maya, a member of the Revolution Club, are arrested and face incarceration for exercising their LIBERTY AND RIGHT OF FREEDOM OF SPEECH. The citizens of this country ARE NO LONGER INDIVISIBLE, UNDER GOD; they are being divided and their Human Rights are constantly violated. AND WHAT HAS HAPPENED TO ASYLUM FOR REFUGEES? WHAT IS BEING DONE TO MAYA IS AN OUTRAGE AND A VIOLATION OF HER RIGHT OF LIBERTY AND FREEDOM OF EXPRESSION.
ALL CHARGES MUST BE DROPPED NOW!
RESPECTFULLY,
ISABEL CÁRDENAS
80-YEAR-YOUNG AMERICAN-SALVADORAN/USA CITIZEN
AND COMMUNITY ACTIVIST SINCE 1960
---
Four Noteworthy Facts about the Freeway Protests:
[1] Los Angeles authorities waited almost a year to press charges. When eight activists were arrested during the two separate civil disobedience actions on the 101 freeway in September and November of 2017, the LA city attorney declined to press charges. Eleven months later, just before the deadline to file charges, the city attorney charged these activists with obstruction of free movement, failure to disperse and failure to comply with police. If convicted, they face as many as three years in jail and $2,000 in fines.
[2] The city additionally charged two RF leaders with "conspiracy," then later indicated they intend to drop this charge in order to conceal the extent of their political spying. In late July/early August 2018, the LA city attorney singled out two leaders of RefuseFascism LA—USC Professor Perry Hoberman and Michelle Xai, LA Refuse Fascism leader—for charges of conspiracy. Michelle Xai hadn't even been on the freeway or arrested during either of the actions! Michelle is also charged with two counts of obstruction of movement. Revealingly, in December 2018, the LA city attorney indicated they intend to drop these conspiracy charges to avoid complying with a judge's order to disclose the identity of their "confidential informant" and turn over the actual audio recordings made by the informant.
[3] The LAPD secretly spied on Refuse Fascism and an informant illegally recorded activists. In an act of politically motivated state repression, the LAPD's "Major/Crimes/Anti-Terrorism Division" sent a confidential informant into Refuse Fascism to surreptitiously and illegally record private conversations and meetings on at least four occasions. In California, it is illegal to record someone without their consent!
[4] Even the DA's office admits that the First Amendment is involved in this case. The detective writing the police report admits to having consulted with the district attorney with a request to file felony conspiracy charges (vs. misdemeanors, which they are facing). The DA said that felony charges would be "contrary to the spirit of the law where First Amendment freedoms are concerned." So how are misdemeanor charges any less "contrary" to their First Amendment rights?!
---
Six Noteworthy Facts about the UCLA Arrests:
[1] The University of California Police Department (UCPD) at UCLA singled out Refuse Fascism and Revolution Club activists. On February 26, 2018, as Treasury Secretary Steve Mnuchin spoke at UCLA, many people protested, booed, and hissed. When three women from Refuse Fascism and the Revolution Club raised their voices as part of this medley of protest, UCLA police brutally dragged them out of the hall and arrested them. (Video of this went viral here, here, and here). Two others with Refuse Fascism and the Revolution Club were arrested outside the hall for agitating and calling attention to arrests that were taking place inside. All five arrestees were told they're banned from campus, including a student and an alum—but this "ban" was never put in writing and there was no means to challenge it.
[2] UCPD arbitrarily arrested a UCLA student a second time for violating their illegitimate ban. Tala Deloria, the first arrested inside the Mnuchin event, publicly violated the illegitimate ban while issuing a video challenge to Mnuchin to debate. She and others who had been arrested and "banned," also participated in 11 minutes of silence for 11 million undocumented immigrants on campus. At neither time was anyone arrested. Then, a few days later at public event on campus, UCLA police arrested Tala and another activist, this time for violating the "ban."
[3] Tala Deloria and another activist, a UCLA alum, who had also been arrested during the Mnuchin protest learned seven months later that they faced an additional charge for their participation in 11 minutes of silence on campus for 11 million undocumented immigrants, even though they hadn't been arrested at this second protest.
[4] In less than one month, these five activists were arrested or charged for participating in four nonviolent protests and for standing in line for an event. They face a total of 13 charges, including: disturbing the peace, trespass, resisting arrest and breaking the "ban" from campus. Tala alone faces five charges and, if convicted, could get nearly three years in jail and $3,400 in fines.
[5] Members of Refuse Fascism and the Revolution Club have been subjected to massive, highly intrusive video surveillance by UCLA police that includes videos of where they are engaged in legal, nonviolent political activity—talking to and organizing students, getting into and out of cars—along with written reports. Police reports reveal that police followed these activists as they walked to and from campus and noted the descriptions and license plate numbers of cars they got into.
[6] All the way across the country in Washington, DC, two other members of Refuse Fascism were arrested for reading Tala Delorias's challenge to debate out loud in front of the office building where Mnuchin works. These activists were detained for over 24 hours. The Department of Homeland Security sent agents to the homes of the activists' parents across the country to ask about their daughters' political views and involvement with RF. Neither women were minors and there was no legitimate reason for authorities to contact their parents, much less visit their homes.
---
Three Noteworthy Facts About the Arrest of Maya (Diya Cruz) at University of Chicago:
[1] The arrest stemmed from 11 minutes of silent nonviolent protest. On March 1, 2018, Maya (Diya Cruz), together with three other members of the Revolution Club, walked into the University of Chicago student center and held up sheets of paper announcing 11 minutes of silence for 11 million undocumented immigrants and stood silently for 11 minutes. Many in the dining hall joined in.
[2] The police attacked and brutalized Maya, then charged her with assault. Maya faces seven years in prison. After 11 minutes, the Revolution Club thanked all who participated and headed towards the exit, where they were stopped by police who at first prevented them from leaving, demanding identification, and then said they could go. Out of nowhere, the police attacked Maya, grabbing her roughly, arresting her, dragging her down the stairs and out of the building. She has been charged with two felony counts of assault, which carry seven years in prison for this SILENT protest. She is also banned from the U of Chicago campus.
[3] The court proceedings against Maya have not been "routine." At what should have been a routine bail hearing, the prosecutor arrived with a lengthy, distorted, and utterly irrelevant political dossier on Maya, portraying her as dangerous and undeserving of bail—on the basis of her alleged political views, associations, and the fact that police have previously attempted to suppress her while she was engaged in lawful speech. At one hearing, the judge made it a condition of Maya's bond that she couldn't raise her fist in his courtroom. When, as they were leaving, Maya's supporters raised their fists the judge threatened them with jail for "contempt of court." At another hearing, the prosecution almost got Maya's bail revoked for another mass harassment arrest of the Revolution Club, this one at the People's Puerto Rican Day parade, in which Maya was also bogusly arrested.