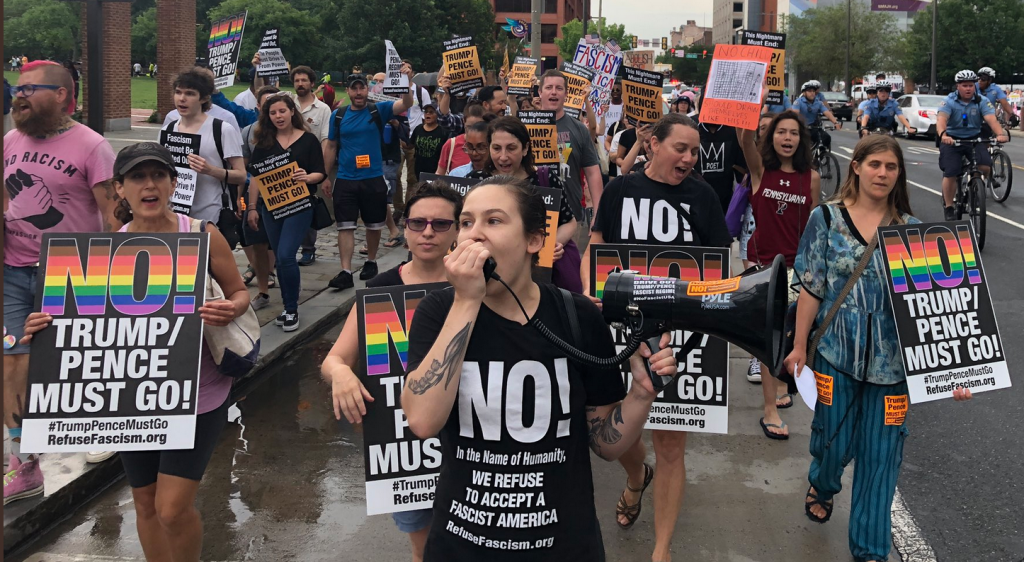 About 60 people came out to the protest that Refuse Fascism Philly called for on July 6: No Raids, No Camps, Trump/Pence Must Go! While there were a handful of familiar faces, it was a strikingly different crowd than most of our previous actions. It was significantly younger and more diverse. These folks came out amidst extreme heat and humidity punctuated with brief moments of pouring rain. As a journalist from the Inquirer approached us while we began to set up our sound system every phone in the vicinity went off with a tornado warning. But none of that mattered to any of the folks who showed up.
As people were gathering we turned down the music as the emcee took the mic and introduced Refuse Fascism, our one unifying goal to drive out the Trump/Pence regime, and our strategy to launch sustained mass protests that grow day after day and week after week focused on that one demand. We then played a clip of the ProPublica recording of children being separated from their parents as Border Patrol agents mock them.
We had five speakers, all organizers with Refuse Fascism, speak to different aspects of what was going on at the border and what is urgently needed to stop all this nightmare. One person focused on detailing the conditions of the camps, including reciting first-hand accounts from child detainees. One organizer spoke to the fascist xenophobic white supremacy of the attacks on immigrants – particularly relating it to the experience of Japanese internment during World War 2. Another read Sarah Roark's article: Many Things Are Impossible Right Up to the Moment They Become Inevitable.
One organizer brought a bunch of used toothbrushes, gave them out and as she was speaking had people raise them in the air. She asked 'do these kids just need toothbrushes? Or do they need freedom?' And she threw her toothbrush down, leading others to do the same. She said 'we aren't going to Schindler* our way out of this,' saving a few lives while millions die; that there is no charitable or legal solution, only a political one: to drive out this regime now. Sam Goldman spoke powerfully to what it meant for people to come out to this protest and listen to that little voice inside them that compelled them to stand up and how we all need to be that voice for many more people and then she read a draft of the new statement from Refuse Fascism: Stop the Torture, Close the Concentration Camps! Organize Now for Mass Non-violent Sustained Protest to Demand: This Nightmare Must End! The Trump Pence Regime Must Go!
All throughout the emcee connected the attacks on immigrants to the whole fascist program and brought to life the need for sustained mass protest of millions to drive out the fascist regime. And then we set off to march to the ICE Field Office, about 5 blocks away. We blocked traffic and chanted in tight unison really focusing on the demand that Trump/Pence must go but with a lot of colorful variation on that theme. As we passed the Federal Detention Center we stopped and drew the connection between the bloody history of this country in slavery and genocide and its more recent history of mass incarceration and how all this feeds into the political, ideological and structural capacity for concentration camps, and how all of this is poised to get much much worse with a fascist regime consolidating power.
When we arrived at the ICE field office we brought people forward to speak their bitterness but also speak out on what kind of world they want to see and who and what they are fighting for. It was deeply inspirational to see the breadth and depth of what people had to say, all supporting this central demand that the Trump/Pence regime must go. One young man from El Paso spoke about the need to not just close the camps, but to hold all those involved to account so that this never happens again.
One older Native American woman spoke, saying that she wasn't "scared for who she was… [she was] scared for all those who are quiet… about injustice." She spoke about the need for people to stand up and fight for all of humanity. A second-grade teacher spoke about having to try to explain to her predominantly immigrant students what's going on while trying to make them feel welcome and safe. One Refuse Fascism organizer spoke, trying to give a comprehensive account of the fascist regime's attack on immigrants, using RF's indictments, but also including the mountain of things that have happened since they were last updated. We implored people to come out again on July 12 to the Lights for Liberty actions around the city and in the suburbs and to bring the message to those actions that the trump/pence regime must go.
An article about the protest was published in the Philadelphia Inquirer just a couple hours after including an interview with Sam Goldman and some overall decent coverage even as they almost entirely avoided mentioning our central demand (like usual), although the accompanying photo said it all. What was most noteworthy was that the article was framed in a way that really highlighted the sustained aspect of this resistance: "'Close the camps!': Philly protesters back on the streets for third time in a week" (emphasis mine) and the reaction on social media, at least on Facebook and Reddit, really embraced that and recognized that as something new that needs to be spread. That headline, especially together with the photo sporting Trump/Pence Must Go! really had a positive effect, and in a sense captured a lot of what is so urgently needed right now coming to life.
Folks pledging to not stand aside while there is still a chance to stop a regime that imperils humanity and the earth itself. Past time to hit the streets en masse demanding #TrumpPenceMustGo! If not NOW when? If not us, who? @refusefascismPH @RefuseFascism pic.twitter.com/hhiWeDYlLG

— Samantha Goldman (@SamanthaGoldm19) July 7, 2019
---
*Oskar Schindler was a German factory owner who is credited with saving the lives of 1,200 Jews during the Holocaust by employing them in his enamelware and munitions factories in occupied Poland.