Send photos & video to [email protected] or tag @refusefascism on social media posts
---
NOVEMBER 14 – Nationwide protests called by Refuse Fascism: Trump Is Still Trying to Steal the Election! NO! Trump/Pence OUT NOW!
Statement read at the protests from the Editorial Board of RefuseFascism.org
---
DC: Nonviolent Counter-Protest Against "Million MAGA March"
RefuseFascism.org protesters righteously stood up to fascist thugs at the "Million MAGA March" in DC, which was demanding overturning the election results. As soon Refuse Fascism began gathering non-violently, misogynist MAGA goons assaulted every one of them. But the protesters stayed tight and strong and got out their message, picked up and spread nationwide by social and mainstream media: Trump pack your shit! You're illegitimate!
The fascists are a mob – but we raised our banner to the world: Drive Out The Trump/Pence Regime!#TrumpPenceOutNow #MAGAMillionMarch pic.twitter.com/YX51ool73F

— Trump/Pence Out Now! (@RefuseFascism) November 14, 2020
"MAGA fascists broke our signs, broke our equipment but did not succeed in breaking our spirit. They didn't succeed at making us lose our message. I'm gonna read you what the Washington Post said about the women who stood up." #MAGAMarchDC pic.twitter.com/o808YQYiwP

— Trump/Pence Out Now! (@RefuseFascism) November 14, 2020
It is so important that @RefuseFascism stood up to the Million MAGA Mob today. @cyberamaris and I take a minute to reflect in the middle… pic.twitter.com/m5ibUUUMDH

— Sunsara Taylor (@SunsaraTaylor) November 14, 2020
Pls donate for this work, plus MAGA ripped up our signs and sound system.
Venmo: refuse-fascism
Or: https://t.co/2gT903uV9Y pic.twitter.com/SYyTW9BOCZ

— Sunsara Taylor (@SunsaraTaylor) November 14, 2020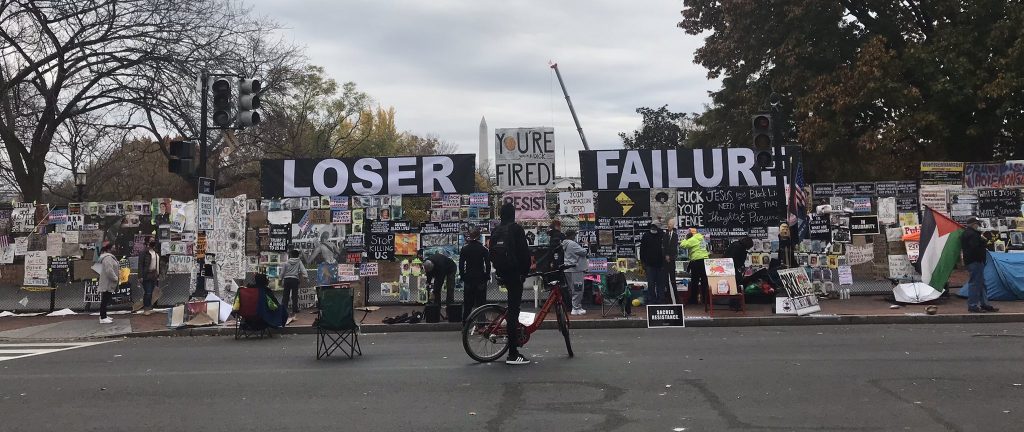 .@RefuseFascism says, "F*ck, Donald Trump." #TrumpPenceOutNow

.@ShutDown_DC, @DCist @Dc_protests @DMVBlackLives @RefuseFascism @Blklivesmatter pic.twitter.com/0cezdpFzlu

— Your Activist Wonk 👩🏻‍💻📱 (@activistwonk) November 14, 2020
"I'm hear to laugh at people & this ridiculous crybaby attempt to say the votes don't count if we don't get what we want. And I've come to feast on their tears"#MillionMoronMarch #DCProtests pic.twitter.com/XtDuy0fFaG

— ChuckModi (@ChuckModi1) November 14, 2020
These 2 came to DC and when we asked them why they were here and they said "We heard there was a Trump rally and we had to come crash it!"

BIG MOOD!

Everyone who was overjoyed when Trump lost should be out opposing this nasty Nazi rally!#MAGAMillionMarch pic.twitter.com/nZ7POl4tNj

— Trump/Pence Out Now! (@RefuseFascism) November 14, 2020
"They got big because we ignored them"

"Nazi Hunter" Daryle Lamont Jenkins @DLamontJenkins on the Ignore or Stand Up to Nazis Debate #DCProtests pic.twitter.com/zrid7owWcI

— ChuckModi (@ChuckModi1) November 14, 2020
Los Angeles
Antoinette with @ValleyChange speaking at the rally today in Los Angeles. #MAGAMillionMarch needs opposition. The fight is not yet over! pic.twitter.com/X3MXuc9qD5

— Refuse Fascism Los Angeles (@RefuseFascismLA) November 15, 2020
Los Angeles right now! Refusing to concede, to peacefully transfer power IS fascist. Whipping up their followers behind the lie of an election fraud is dangerous. We recognize that even beyond their moves to overturn the election, this regime still poses grave danger to humanity pic.twitter.com/xmlYJ2xV61

— Refuse Fascism Los Angeles (@RefuseFascismLA) November 14, 2020
The election is over. Biden won. Trump lost. Now he and his fascist regime need to go. Trump, awash in his bitter #fascist delusion, has not conceded. Pence, Barr, Pompeo, play a preposterous yet deadly game with their hands on the levers of power talking a "2nd Trump pres" pic.twitter.com/8FQDdGbpdA

— Refuse Fascism Los Angeles (@RefuseFascismLA) November 14, 2020
With @RefuseFascismLA in the streets today. If you were in the streets celebrating Trump's defeat think about all of the reasons that you were so overjoyed. You will see that you must STAY in the streets until Trump's defeat is cemented &his entire regime leaves. pic.twitter.com/uCHpu5l5cF

— Revolution Club Los Angeles (@revclub_la) November 14, 2020
Chicago
Refuse Fascism Chicago demanding Trump/Pence #OutNow with some funk! #Chicago #Funk #TrumpConcede #TrumpPenceOutNow pic.twitter.com/3s4ByiWuhQ

— RefuseFascismCh (@RefuseFascismCH) November 14, 2020
Philadelphia
Today we rallied in Philly to stop Trump's attempt at a coup and we marched to Linda Kern's house, Trump's last lawyer in Pa. Trump's lawsuits have no merit but are acting as cover for an illegitimate takeover. No! we refuse to accept a fascist USA #TrumpConcede #LoserInChief pic.twitter.com/sMGvxDDVOb

— Trump/Pence Out Now! (@RefuseFascism) November 14, 2020
Houston
Houston saying Trump, you lost, time to pack your shit and go!

Goodbye! pic.twitter.com/S316n9DorW

— Trump/Pence Out Now! (@RefuseFascism) November 14, 2020
SAN FRANCISCO

Atlanta