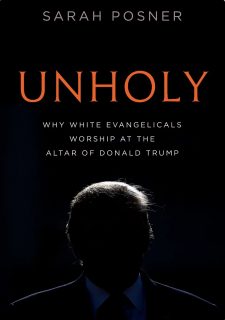 Sam Goldman talks with Sarah Posner (@SarahPosner), journalist and author of Unholy: Why White Evangelicals Worship at the Altar of Donald Trump about Trump's impeachment trial. Read Sarah's recent piece, How the Christian right helped foment insurrection.
Upon acquittal, Trump said, "Our historic, patriotic and beautiful movement to Make America Great Again has only just begun. In the months ahead I have much to share with you, and I look forward to continuing our incredible journey together to achieve American greatness for all of our people. There has never been anything like it!"
And as much as he lies with every breath, these statements about only just beginning will prove true if we don't stop them.
---
Slightly edited transcript of an excerpt of Episode 46 of the Refuse Fascism podcast
Sam Goldman:  You tweeted: "A vote to acquit isn't cowardice, it's fascism." There's been a lot of writing that I'm sure listeners have seen talking and a lot of people talking about any GOP member who votes to acquit is a coward…they don't have a spine, they won't stand up… can you talk about why it isn't cowardice, why it, as you said, a vote to acquit isn't cowardice, it's fascism?
Sarah Posner: There is an element of cowardice to it, obviously, but by calling it just cowardice and not recognizing it as the complicity that allows fascism to function and thrive, it just papers over what's really going on here. Because if you call it cowardice, then it makes Trump seem like an aberration who's scary to these Republican lawmakers but once we get past this period, they won't be scared of him anymore because he's no longer in office. They won't be scared of his base because they'll see him as not having the bully pulpit because he's not President anymore and he doesn't have his twitter anymore and so on and so forth. But these are real and long lasting changes in our politics and the complete subversion of our democracy that has happened under Trump. Being complicit with that isn't just cowardice, it's being complicit with fascism. If you allow a leader who is seen by his base and your base as anointed by god and having to be defended no matter what, and that leader basically orders an attack on your workplace and on the actual mechanics of our democracy and nearly has you killed and you are not going to hold him accountable, that's a lot more than just cowardice.
Sam Goldman: I completely agree, and I think it's really important to be talking about what was at stake and what continues to be at stake. Cause it has everything to do with how people understand and respond to what's going on. The fact that we so narrowly escaped this coup, seemingly by accident, that they were trying to overturn the result of a free and fair election. Whether or not there is rule of law or open bloody dictatorship. That is what's on the line. And I think…
Sarah Posner: I would put it this way also: By acquitting him, they are basically saying that it is ok for a president who voters have voted to remove from office to activate a private militia overturn that election by force. I mean, if that's not fascism, what is?
Sam Goldman: Exactly. It's not only giving it the thumbs up, but greenlighting it to happen again. And, it's extremely dangerous, and I think your point about complicity is one that people really need to be taking to heart when they're talking about the decisions of the GOP. I would take it a step further, perhaps, to say collaboration. Their decision in this trial will not be a diversion from what they've done in the past four years, which is to facilitate a situation in which something like this happens. I think you've said this elsewhere: that they too have blood on their hands. Should they not convict him.
Sarah Posner: Right. So ok, yes it's true, the FBI is on the hunt for a lot of the perpetrators here, and a lot of them been arrested, but they no doubt have inspired many others who are going to carry out acts of violence, if not at the capitol in Washington, perhaps at state capitols around the country and in other places. It's extremely dangerous, and I was just thinking back to the first impeachment trial when Susan Collins said that she believed Trump had learned his lesson, which is so… yes… the lesson he learned was that these Republicans will let him do whatever he wants.
Sam Goldman: Exactly. I wanted to close out with reading a section of a thread that you wrote on Twitter: "Aside from the actual act of acquitting him, the painting of acquittal as inevitable and unchangeable was a deliberate act to lead people to look away; to say the trial doesn't matter because the outcome is preordained. Not true. Nothing could matter more right now. Watch it. It will make you angry. Very angry. Good. You should be angry. But they want it to make you want to give up, because after all the effort made by the House managers, the Senate will acquit anyway. Never give up." I wanted to ask you what does never giving up look like to you?
---
The Refuse Fascism Podcast
Hosted by volunteers with RefuseFascism.org, a movement of people coming from diverse perspectives. In the name of humanity we refuse to accept a fascist America!
LISTEN ON Spotify, Apple, Google or other podcast channels
SUBSCRIBE: Do not miss an episode of the Refuse Fascism Podcast
Send your comments to [email protected] or @SamBGoldman.
Connect with the movement at RefuseFascism.org and support:
Venmo: @Refuse-Fascism Cashapp: @RefuseFascism paypal.me/refusefascism donate.refusefascism.orgMusic for this episode: Penny the Snitch by Ikebe Shakedown.