Click here to listen on Youtube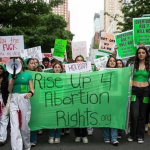 Coco Das @Coco_Das and Sam Goldman @SamBGoldman have been busy rallying people in the streets with RiseUp4AbortionRights.org over the past couple weeks – we share some of those speeches today. Join in nationwide protests this Thursday May 26 to raise your voice and raise hell as SCOTUS is on the verge of overturning Roe and allowing many abortion bans to go through. Find or organize a protest here. 
Recommended reading:
CPAC Hungary: Global right doubles down on "replacement" theory: "This is what tyrants do"
Refuse Fascism is more than just a podcast! You can get involved at RefuseFascism.org.
Connect with the movement at RefuseFascism.org and support: