---
Stop the Raids! Stop the Torture, Close the Concentration Camps! Organize Now for Mass Non-violent Sustained Protest to Demand: This Nightmare Must End! The Trump Pence Regime Must Go!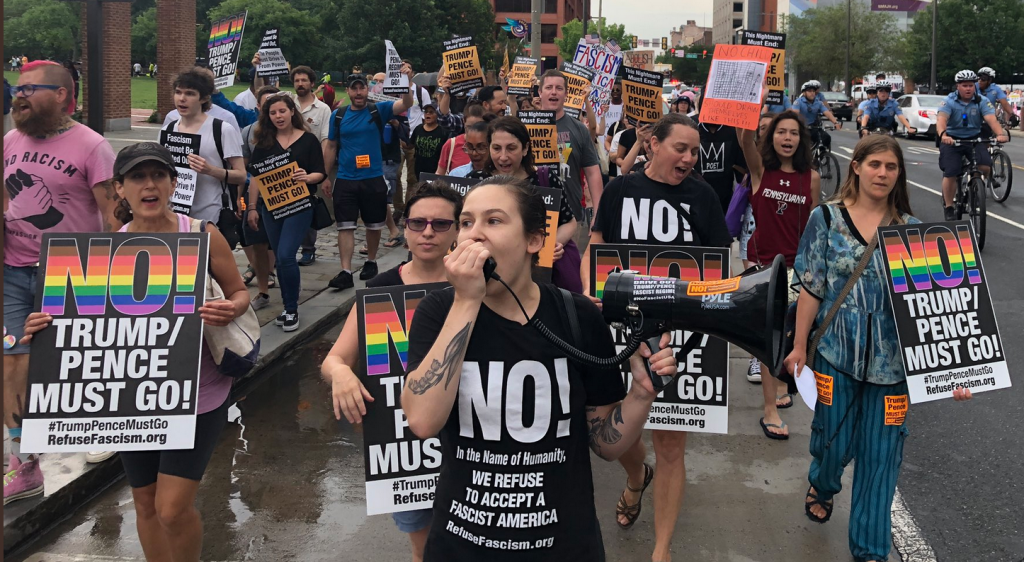 Bring this message, along with RefuseFascism.org's Call to Action into protests taking place against the cruel attacks on immigrants and migrants happening across the country, to organize people to join with us in a movement to drive OUT this regime. See local events below.
Send meetup info for Refuse Fascism at protests in your area to [email protected] and find meetup info on this page. Or find protests in your area on social media. Get printable versions of the Refuse Fascism Call to Action and materials for signs here.
---
Second Trial Set 7/25/19 – LA City Attorney Doubles Down in Unjust, Political Prosecution of Two Arrested for Sounding the Alarm Against the Trump/Pence Fascist Regime – read more
Sunday, July 21 An Evening of Conscience and Culture:  Free the #Freeway9 and #UCLA5 It's right to sound the alarm against fascism! Immanuel Presbyterian Church, 3300 Wilshire Blvd, Los Angeles. Facebook event
Print these signs and get them out everywhere
Take these signs everywhere, and boldly challenge people to confront that we are facing FASCISM which can only be stopped through mass independent sustained political protest from below demanding the removal of the whole regime. Download this zip file with printable PDFs for both signs.
Video of a talk by Bob Avakian:
THE TRUMP/PENCE REGIME MUST GO! In The Name of Humanity, We REFUSE To Accept a Fascist America: A Better World IS Possible!

Find a showing in your area below… or organizing your own showing. Video is
here
.
.
---
Events by City / Connect with a Chapter
---
Atlanta
follow on Facebook >
678-962-7732
Atlanta at RefuseFascism.org
@RefuseFascismATL
---
Austin
Austin [at] refusefascism.org
Follow on Facebook >
---
Boston
Saturday, July 27 Join Refuse Fascism at the Lowell Folk Festival.
12:00 – 4:00 pm. Volunteers needed!  The Lowell Folk Festival is one of the largest free folk festival in the country, drawing together thousands of people for a weekend of free folk music from around the world.  Refuse Fascism will be there, with a table and materials.  To volunteer for all or part of the day, contact the New England chapter
Sunday, July 28, Refuse Fascism General meeting
3:00 – 5:00 pm Windsor Street Community Art Center.  119 Windsor Street, Cambridge MA.
Chicago
Wednesday July 24 Join Refuse Fascism for a film screening and discussion of:
"THE TRUMP/PENCE REGIME MUST GO!
In The Name of Humanity, We REFUSE To Accept a Fascist America: A Better World IS Possible!" Film of a talk by revolutionary leader Bob Avakian
7:00 pm 5252 N. Broadway, 2nd floor, Berwyn stop on Red Line, Chicago
Facebook event – please join, invite and share if you're on Facebook!
chicago [at] refusefascism.org
Follow on Facebook >
Twitter: @refusefascismch
Text NOTRUMP to 33222 for updates
---
Cleveland
Tuesday July 23 Join RefuseFascism.org at Never Again ICE Protest
5:15 pm at the Geauga County Library, 12701 Ravenwood Dr, Chardon, OH 44024(corner of Merritt Road)
March to Rally at ICE facility, 12450 Merritt Rd, 6:00 – 7:30
Call or text: 216-225-2267
Email: Ohio [at] refusefascism.org
Twitter: @RefuseFascismOH
Follow on Facebook >
---
Houston
Tuesday July 23 Bridge Blogging #TrumpPenceMustGo
4:45 pm to 6:15 pm (And EVERY Tuesday!)
on the Montrose Ave bridge over the 59 freeway
---
Indianapolis
---
Los Angeles
---
Philadelphia
July 23-25 Refuse Fascism @ Philadelphia Trans Wellness Conference 2019*
10:00 am – 6:00 pm Philadelphia Convention Center
Facebook event
Sunday August 19 Trump/Pence Must Go! 2020 Is Too Late! Beer Garden Pop-Up 5:30-8:30 pm Sam's Morning Glory Diner [735 S. 10th St]Live painters and music performances from 1:21, Flo, and more! Donations encouraged to mobilize people to drive out the Trump/Pence regime through sustained mass, nonviolent resistance.
---
Riverside County CA
---
San Francisco Bay Area
Tuesday July 23, 30 RefuseFascism.org Discussion & Organizers Meeting
6:30pm Sports Basement 1590 Bryant Street, San Francisco
Facebook Event
510.926.8144
NorCal [at] refusefascism.org
@SFRefuseFascism
Follow on Facebook
---
Seattle
Sunday, July 28: Refuse Fascism Seattle Meeting #TrumpPenceMustGo
6:00 – 8:00 pm All Pilgrims Christian Church, 500 Broadway East, Seattle
(Organizing meetings also August 11 & 25; September 8)
Facebook Event
206-665-5965
---