Refusefascism.org is organizing people to take to the streets in cities & towns across the country, day after day, night after night, not stopping until our demand is met. This nightmare MUST end! The Trump/Pence Regime Must Go. Getting these materials out in the world right now will make a big difference in putting this demand before all of society.
The Refuse Fascism Call to Action
Prepare and organize people to drive out this regime: The Refuse Fascism 2018 Call to Action diagnoses the existential threat to humanity posed by the Trump/Pence Regime organizes people to stop it. Print it, get it out everywhere, get people to sign this pledge. 
– Printable PDF (This document is printed on 8.5″ x 14″ paper stock, double-sided in landscape format, with one fold, to make a booklet 8.5″ tall by 7″ wide.)
¡Esta pesadilla tiene que terminar:
El régimen de Trump y Pence tiene que marcharse!
¡En nombre de la humanidad,
nos NEGAMOS a aceptar a un Estados Unidos fascista!
---
The Poster:
This demand — that the whole regime be removed from power — is the only demand that meets the extreme danger of what we are facing. Displaying this in windows, yards, and bringing this into protests everywhere is one of the most important political statements you can make right now.
Ready for the printer PDF files for window / lawn signs:
Or, if you are printing localy, ask your printer if they want a PDF with or without bleed.
---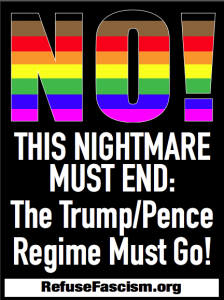 Print on your home printer or at your local print shop. Or see instructions for printing large posters on your home printer here.
---
2018 Signs
---
Get with your Refuse Fascism chapter (if you don't have one, or aren't near one, contact the national office). Raise funds. Gather up new people. Order, assemble, and recruit people to get out there with these posters!
Do-It-Yourself files to print the 7′ high panels
Download DIY posters from Google Docs (PDFs for printing on large posters).
Print-ready 11″ x 17″ posters of the indictments
Download zip file with all 7
---
Share on Social media:
Added 3/14/18
Printable Flyer PDF
---
Added 3/12/18
Stickers:
Printer-ready PDF stickers & signs:
March 1:
Immigrants Stay – Trump / Pence Must Go!
FIRST THEY CAME FOR THE MUSLIMS,
THEN THEY CAME FOR THE IMMIGRANTS
Not This Time…
Stand Up Now with the Immigrants
This Nightmare Must End: The Trump/Pence Regime Must Go!
Local JPEG file side 1 | Local JPEG file side 2 
Local DOC file side 1 | Local DOC file side 2
---
To share all over:

High resolution posters for sharing or printing
Banner for March 1 (download printshop-ready PDF here)
Instagram-ready:
---
---
Download the Real Shithole (right)
JPEGS: 4″x5″ | 8″x10″ | 15″x20″ poster
Printable sheet of stickers: PDF
---
Read, share, print:
The Call: This Nightmare Must End! The Trump/Pence Regime Must Go!
---
---
A cool source of anti-Trump memes and graphics: Edel Rodriguez:
Edel Rodriguez interviewed on CNN about his Time and Der Spiegel covers of Trump
---
More graphics for social media:
An unstable moron.

A stable Christian fascist.

A marriage made in hell. #TrumpPenceMustGo #stablegenius pic.twitter.com/wvlAKJV6P3

— #TrumpPenceMustGo (@RefuseFascism) January 6, 2018


New palm cards (Updated 11/21/17)
Click on image to download printable PDFs
Sharable graphics/memes
---

Also on this page…
Posters, banners, stickers & graphics to spread the word and get organized to drive out the Trump/Pence regime.
—Scroll down to browse what is available, or jump to the materials you are looking for using this index:
---
Indictments of the Crimes of the Trump/Pence Regime – posters, pamphlets, and leaflets
Refuse Fascism has published seven Indictments of the Crimes of the Trump/Pence Fascist Regime focused on the following topics.  These are powerful tools in understanding the scale, the scope, and the fascist essence of the Trump/Pence Regime – the horrific peril it presents to all of humanity and the earth itself.
They focus on the following seven topics: immigrants; Muslims; civil liberties; women and LGBTQ people; the people of the world; white supremacy, police brutality and mass incarceration; the environment.
These Indictments are available in a powerful 12-page pamphlet which also includes the way out of this nightmare: a plan for people all over the country to act together, beginning November 4, to drive this whole fascist regime from power.
Order bulk copies of this pamphlet by clicking here.
Below, find links to print the full set of seven as either a one page flyer, a poster-size, or as a 5 foot panel for large display.
Print these Indictments as 8 ½ x 11" flyers:  Immigrants; Muslims; Civil liberties; Women and LGBTQ people; The people of the world; White supremacy, police brutality, and mass incarceration; The environment.

Print these Indictments as very large (40 x 60" panels):
Immigrants
Muslims
Civil liberties
Women and LGBTQ people
The people of the world
White supremacy, police brutality and mass incarceration
The environment 
Need help printing these out and mounting them on large foam-core?  Scroll to the very bottom of this page or click here. 
---
The original Call to Action of Refuse Fascism issued Feburary, 2017
This is the plan of Refuse Fascism. Millions need to understand and act on this urgently. It provides the education and wake up call needed now.
"The Trump/Pence Regime is a Fascist Regime. Not insult or exaggeration, this is what it is. For the future of humanity and the planet, we, the people, must drive this regime out."
Print this flyer:
in English
Read the Refuse Fascism Call
---
NO! Posters, Stickers, t-shirts and Memes
The Refuse Fascism NO! logo is the most widely recognizable symbol of opposition to the Trump/Pence regime. It needs to reverberate throughout society much more broadly and powerfully as the emblem of the determination of millions not to allow a fascist America. Make it known everywhere, bring it to and get it out at every protest, put it up in windows, on bulletin boards, in yards and gardens. Available on posters, stickers, t-shirts, and memes.
Memes for social media
Many more sharable images here.
NO! posters for printing
11″ x 17″ 
¡NO! en Español
NO Posters in Multiple Languages
---
Banners
The 3' x 8' Refuse Fascism banners need to put the stamp of Refuse Fascism and our determination to drive this regime out at every outbreak of protest across the country. NO! In the Name of Humanity, We REFUSE to Accept a Fascist America!
Get PDF files and details for printing Refuse Fascism banners here.
---
HOW TO PRINT AND MOUNT 40″ x 60″ POSTERS
40×60" is very big – its 5 feet tall and a little more than 3 feet wide.  Posters this size make a very big impression and create a powerful visual display.  These can be taken out on the street, used during protests, set up indoors at forums, town halls, art shows, social hours after religious services, and more.
1) Call local print shops or FedEx Office to find one that will print a 40" x 60" poster.
2) Download one, some, or all of the posters:
Immigrants
Muslims
Civil liberties
Women and LGBTQ people
The people of the world
White supremacy, police brutality and mass incarceration
The environment 
3) Send it/them to the print shop.
4) Purchase 40 by 60" large, ½ inch thick foam board.
5) Mount the posters to the foam board using double-stick tape.
TIP: To make these posters last longer, its a great idea to water-proof them. Many art supply stores sell sprays for this purpose or you could cover your poster with clear contact paper or a clear shower curtain that you stretch tight and staple in place.  Be sure to cover the edges or water will seep in (this can be done by stretching your water-proofing material over the edge, or with clear packing tape).
TURN THE SEVEN INDICTMENTS OF THE TRUMP/PENCE REGIME INTO A STAND-UP DISPLAY:

If you print and mount all seven of the Indictments of the Crimes of the Trump/Pence Regime on this huge panel size, they can be hooked together and stand up on their own as a visual display.
Use a drill (or use a nail and hammer) to create a hole two inches in from each corner of each panel.  Lay them out, one next to the other.  Then, using twine or thick string, tie the top right and bottom right corners of one poster to the top left and bottom left corners of the next poster.  Repeat this until every poster is tied to the previous poster in one long chain.  Turn them right side up, zig zag them, and they will stand up on their own.
IF YOU HAVE questions, write [email protected] or
call the office 917 407 1286.
Presenting these images well is an important part of manifesting the NO!  So, do not hesitate to ask.