Refusefascism.org is organizing people to take to the streets in cities & towns across the country, day after day, night after night, not stopping until our demand is met. This nightmare MUST end! The Trump/Pence Regime Must Go.
Getting these materials out in the world right now will make a big difference in putting this demand before all of society.
Posters of Jewish people massacred at the synagogue in Pittsburgh, and the two African- American people murdered in Kentucky. In the mix with Refuse Fascism's message they can be part of confronting people with the reality that In the Name of Humanity, The Trump/Pence Regime Must Go!
The posters were created for Refuse Fascism and for sharing with everyone who wants to make a statement by Perry Hoberman, USC professor and artist and one of the leaders of Refuse Fascism. Printable PDF files and instructions for assembling the posters here.
---

Print window signs
Ask your printer if they want a PDF with or without bleed.
---
The Refuse Fascism Call to Action
Prepare and organize people to drive out this regime: The Refuse Fascism 2018 Call to Action diagnoses the existential threat to humanity posed by the Trump/Pence Regime organizes people to stop it. Print it, get it out everywhere, get people to sign this pledge. 
¡Esta pesadilla tiene que terminar:
El régimen de Trump y Pence tiene que marcharse!
¡En nombre de la humanidad,
nos NEGAMOS a aceptar a un Estados Unidos fascista!
---
The Poster:
This demand — that the whole regime be removed from power — is the only demand that meets the extreme danger of what we are facing. Displaying this in windows, yards, and bringing this into protests everywhere is one of the most important political statements you can make right now.
Ready for the printer PDF files for window / lawn signs:
Or, if you are printing localy, ask your printer if they want a PDF with or without bleed.
---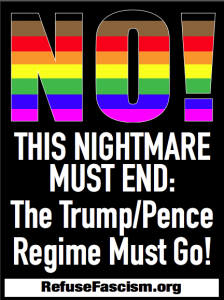 Print on your home printer or at your local print shop. Or see instructions for printing large posters on your home printer here.
---
2018 Signs
---
Get with your Refuse Fascism chapter (if you don't have one, or aren't near one, contact the national office). Raise funds. Gather up new people. Order, assemble, and recruit people to get out there with these posters!
Do-It-Yourself files to print the 7′ high panels
Download DIY posters from Google Docs (PDFs for printing on large posters).
Print-ready 11″ x 17″ posters of the indictments
Download zip file with all 7
---
Share on Social media:
Printable Flyer PDF
---
Added 3/12/18
Stickers:
Printer-ready PDF stickers & signs:
---
To share all over:
High resolution posters for sharing or printing
---
---
Download the Real Shithole (right)
JPEGS: 4″x5″ | 8″x10″ | 15″x20″ poster
Printable sheet of stickers: PDF
---
Read, share, print:
The Call: This Nightmare Must End! The Trump/Pence Regime Must Go!
---
---
A cool source of anti-Trump memes and graphics: Edel Rodriguez:
Edel Rodriguez interviewed on CNN about his Time and Der Spiegel covers of Trump
---
More graphics for social media:
An unstable moron.

A stable Christian fascist.

A marriage made in hell. #TrumpPenceMustGo #stablegenius pic.twitter.com/wvlAKJV6P3

— #TrumpPenceMustGo (@RefuseFascism) January 6, 2018


New palm cards (Updated 11/21/17)
Click on image to download printable PDFs
Sharable graphics/memes
---

Also on this page…
Posters, banners, stickers & graphics to spread the word and get organized to drive out the Trump/Pence regime.
—Scroll down to browse what is available, or jump to the materials you are looking for using this index:
---
---
The original Call to Action of Refuse Fascism issued Feburary, 2017
This is the plan of Refuse Fascism. Millions need to understand and act on this urgently. It provides the education and wake up call needed now.
"The Trump/Pence Regime is a Fascist Regime. Not insult or exaggeration, this is what it is. For the future of humanity and the planet, we, the people, must drive this regime out."
Print this flyer:
in English
Read the Refuse Fascism Call
---
NO! Posters, Stickers, t-shirts and Memes
The Refuse Fascism NO! logo is the most widely recognizable symbol of opposition to the Trump/Pence regime. It needs to reverberate throughout society much more broadly and powerfully as the emblem of the determination of millions not to allow a fascist America. Make it known everywhere, bring it to and get it out at every protest, put it up in windows, on bulletin boards, in yards and gardens. Available on posters, stickers, t-shirts, and memes.
Memes for social media
Many more sharable images here.
NO! posters for printing
11″ x 17″ 
¡NO! en Español
NO Posters in Multiple Languages
---
Banners
The 3' x 8' Refuse Fascism banners need to put the stamp of Refuse Fascism and our determination to drive this regime out at every outbreak of protest across the country. NO! In the Name of Humanity, We REFUSE to Accept a Fascist America!
Get PDF files and details for printing Refuse Fascism banners here.
---