Poster, banners, flyers… materials
NEW Printable posters-click on the image to download a printable 8 1/2 x11 poster that you can personalize
NEW (March, 2020) Posters – click on the image to download a printable 8 1/2 x 11 poster, click on the links below to download 8 1/2 x 11 or 11 x 17″ PDFs.
11×17 POSTER | 8.5x11_POSTER
---
Print 20′ long banners: give your printer this link for the files they need to make either of these banners.
---
Print protest signs: click to open and print the JPEG files below or take the

PDF file for both

to a print shop.
---
Oppose The Trump Regime's Aggression Against Iran – TRUMP-PENCE OUT NOW!"
On January 2nd, Trump ordered the assassination by missile strike the high ranking Iranian military leader Maj. Gen. Qassim Suleimani. This is a major and extremely dangerous move with repercussions here and around the world.
Join protests against war against Iran.
Bring the message of #OUTNOW!
---
Challenge people in social media: "If you are counting on the Democratic Party to get rid of Trump…"
To post – if you use the top row of images, add your own message:
If you are counting on the Democratic Party to get rid of Trump, you are deluding yourself. Wake up & get in the streets this Saturday, December 14: Trump-Pence #OutNow!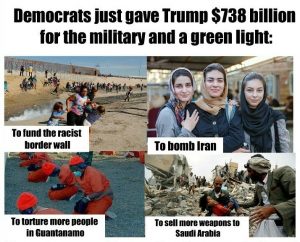 ---
NO POLICE STATE
Download printable PDFs of victims of police murder
---
TrumpPence OUT NOW / Stay in the Street Posters
---
---
Stop the Torture, Close the Concentration Camps
Organize Now for Mass Non-violent Sustained Protest to Demand:
This Nightmare Must End! The Trump Pence Regime Must Go!
Printable PDF: English Front / Back | Spanish Front / Back
---
2020 Refuse Fascism Statement of Conscience/Call to Act:
Sign and share this Statement of Conscience; Call to Act
printable leaflet pdf 
---
Get the messsage out everywhere and organize people into Refuse Fascism
Boldly challenge people to confront that we are facing FASCISM which can only be stopped through mass independent sustained political protest from below demanding the removal of the whole regime. Download this zip file with printable PDFs for both signs.
---
Printable poster/yard signs/window signs
Ask your printer if they want a PDF with or without bleed. With bleed: Placard_11x17_TNME_TPMG(bleed) | Without: Placard_11x17_TNME_TPMG
---
Spread this everywhere on social media:
---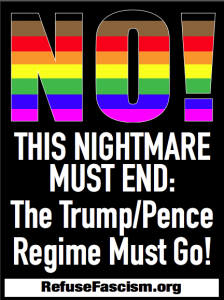 Print on your home printer or at your local print shop. Or see instructions for printing large posters on your home printer here.
---
Download the Real Shithole (right)
JPEGS: 4″x5″ | 8″x10″ | 15″x20″ poster
Printable sheet of stickers: PDF
---
A cool source of anti-Trump memes and graphics: Edel Rodriguez:
Edel Rodriguez interviewed on CNN about his Time and Der Spiegel covers of Trump
---
More graphics for social media:
An unstable moron.

A stable Christian fascist.

A marriage made in hell. #TrumpPenceMustGo #stablegenius pic.twitter.com/wvlAKJV6P3

— #TrumpPenceMustGo (@RefuseFascism) January 6, 2018


Sharable graphics/memes