Voices from the Stage, and Sent to the Protests, on November 4
Many perspectives, one mission: THIS NIGHTMARE MUST END: THE TRUMP/PENCE REGIME MUST GO!  
Also…. Keynote Speech by Refuse Fascism at
Rallies and Marches on Nov 4:
Who will end this nightmare? WE WILL
---
Andy Zee Calls Out Press White Out and Distortions
---
Jay W. Walker: Tell Everyone You Know
"DRIVE THEM OUT" JAY W. Walker says tell everyone you know #TrumpPenceMustGo from ppl at the laundromat & bodegas til they're gone! #NOV4ITBEGINS pic.twitter.com/Jxl1bVlhS4

— #NoFascistUSA (@RefuseFascism) November 4, 2017
---
Father Lawrence Lucas, author, lecturer, Black liberation theologian, chaplain on Rikers Island, longtime Harlem activist
Congratulations to the leaders and all involved in the November 4th beginning to end the Trump/Pence nightmare. Hope it wakes up millions of Americans including many sleeping and/or duped clergy. With You
---
Noche Diaz – Revolution Club
---
Salman Aftab – In Many Languages: In the Name of Humanity We Refuse a Fascist America
---
Rev Gregg Greer
---
Imam Souleimane Konate: "We are all human."
Imam Kanote Soulemaine speaks "We are all human."
Support the movement to drive out Trump https://t.co/QSamQHde4m#Nov4ItBegins #Resist pic.twitter.com/t1kVOE8kf6

— #NoFascistUSA (@RefuseFascism) November 4, 2017
---
Lalah Hathaway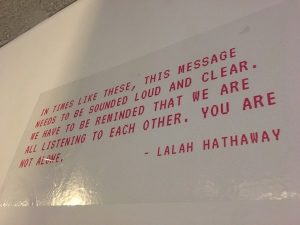 Rev. John Beaty: Why I believe that both Trump and Pence are not fit to be President and Vice President
…They are threatening the Constitution of the United States in a lust for power, privilege, and partisanship. They are talking like fascists, looking like fascists, acting like fascists, entertaining white nationalist neo-Nazis in the highest echelons of government. Do you think they just might be fascists?
---
Message of Support from Eve Ensler
Message of support for Eve Ensler for #Nov4ItBegins.
Trump and Pence Must Go!
Join us in 20+ cities today https://t.co/cVmiL2ZaE9 pic.twitter.com/DCKjEMlRBa

— #NoFascistUSA (@RefuseFascism) November 4, 2017
---
Post by Tom Morello
Trump/Pence regime must go! Join the thousands peacefully gathering & marching in US cities today to demand an end to this clown show

— Tom Morello (@tmorello) November 4, 2017
---
Message of support from Grammy Winner Arturo O'Farill
Message of support from Grammy Winner Arturo O'Farill for today's #TrumpPenceMustGo protests. #Nov4ItBegins #SaturdayMorning #TheResistance pic.twitter.com/HU2l0r4rcw

— #NoFascistUSA (@RefuseFascism) November 4, 2017
---
Perry Hoberman – Refuse Fascism, LA
Perry Hoberman of Refuse Fashion explains how today will "start the process of driving out" the Donald Trump regime in #LosAngeles pic.twitter.com/fO1su95XPw

— Wes Woods II (@JournoWes) November 4, 2017
From a Prisoner in Washington State
…In the name of humanity, please do not forget Washington State during the protest. Where 1 in 3 black men will go to prison in his life time. Black people and hispanic people now comprise more than half of Washington State Prison population. Since the late 90s, Washington State has experienced an accelerated rise in mass incarceration of black and brown folks or what I call the 'new Jim Crow; or as slavery by another name…
---
NYC: Immortal Technique
.@ImmortalTech says "Human rights are at an all-time low because people can't seem to even decide who is human & who is not."#Nov4ItBegins pic.twitter.com/2NFzLWa8SI

— #NoFascistUSA (@RefuseFascism) November 4, 2017