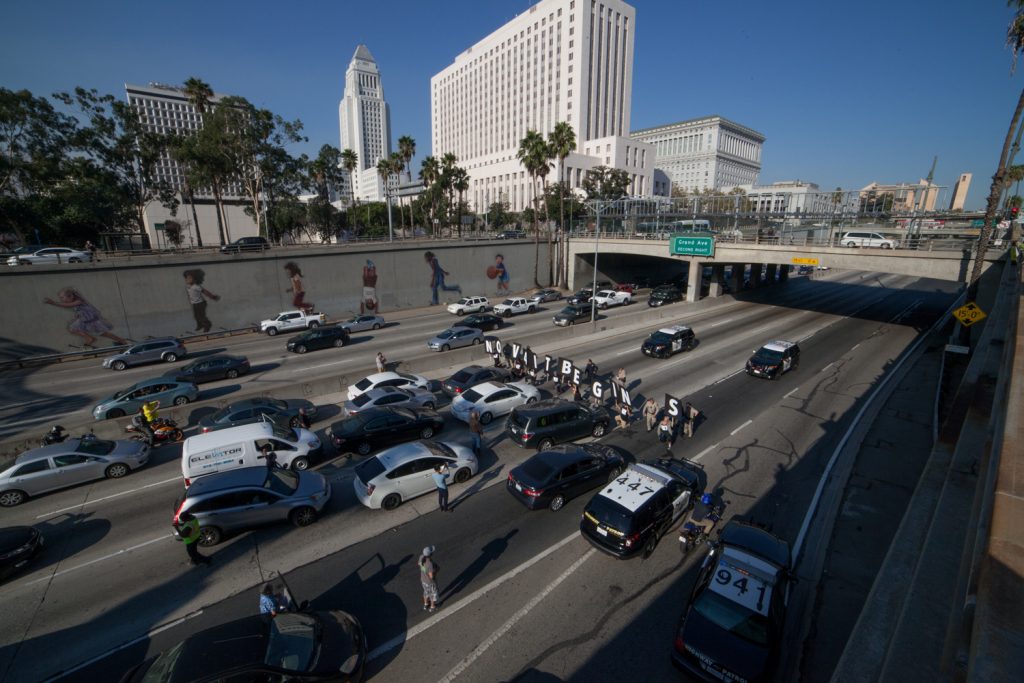 In the past two years, twelve members of Refuse Fascism, some of whom are also members of the Revolution Club, have been hit with criminal charges and one faces up to seven years in prison for nonviolent political protest. Their cases, most of which are currently pending, reveal a continuing pattern of coordinated governmental political surveillance, targeting, and persecution against Refuse Fascism.
More details and background on these attacks on Refuse Fascism here
Why? For over two years, RefuseFascism.org (RF) has worked tirelessly to arouse the millions in this country who hate and fear what this regime is doing to break out of politics-as-usual—organizing people and organizations from a diverse range of political views behind the single unifying demand: This Nightmare Must End: The Trump/Pence Regime Must Go! To accomplish this goal, which is necessary to prevent the further and full consolidation of a fascist form of rule, also requires breaking out of protest-as-usual—organizing a movement to launch sustained nonviolent protest across the country that begins with many thousands and grows day after day to soon include hundreds of thousands and eventually millions of people who do not stop, creating a political situation where the demand that the whole illegitimate regime is removed from power.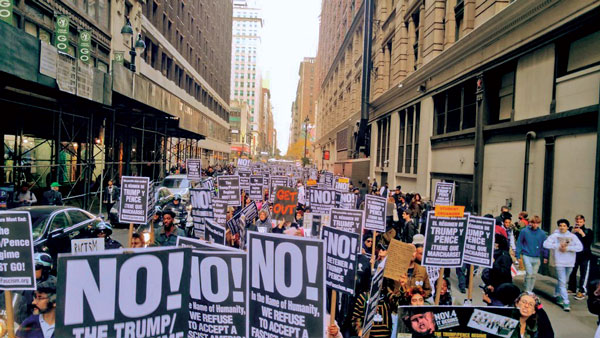 For this, RF has been hounded by fascists of many stripes. Influential fascist media (Alex Jones and many others) spent weeks pumping out dangerous lies about Refuse Fascism's call for protest on November 4, 2017, provoking countless threats and hundreds of armed fascists showing up to threaten and intimidate RF protesters.
And RefuseFascism.org has also been hit with heavy political repression from the state.
For 11 of these individuals, charges stemmed from two separate nonviolent civil disobedience actions which blocked traffic on the 101 Freeway in Los Angeles, and from nonviolent speech during an appearance of Steve Mnuchin at UCLA. Viral video of these different protests has been seen by millions (LA freeway protests here and here; Mnuchin protest here, here, and here). For many months—in some cases for nearly a full year — these activists were not charged with any crime at all.
Then suddenly, within just a few weeks and just before the clock ran out on the time frame to indict, the LA city attorney hit activists from these different protests—which took place months apart—with heavy criminal charges. Two people – Perry Hoberman and Michelle Xai – were hit with conspiracy charges for actions they either hadn't been arrested for or hadn't even taken part in! Further, it came to light that the authorities had illegally infiltrated Refuse Fascism with an informant whose mission was to spy on and report on legal political discussions and plans for outreach with the message of Refuse Fascism.
In January 2019, rather than comply with a court order that the LAPD reveal information about the police informant who illegally infiltrated Refuse Fascism meetings, the city attorney dropped the conspiracy charges and dismissed the case against Michelle Xai. While this is an important victory, the other defendants are demanding that this information be turned over as it is essential to all these cases. And the other defendants continue to face criminal charges.
For the other individual, Maya, charges stem from an arrest that took place after she had finished a nonviolent silent protest which lasted just 11 minutes—for 11 million undocumented immigrants—at the University of Chicago. Chicago police brutalized and arrested this activist as she was leaving the campus and now she faces up to seven years in prison!
The arrests and legal persecution of these 12 freedom fighters are unjust and illegitimate. With a fascist regime in power, tearing up what are supposed to be protected civil and legal rights, and ruling through increasingly open terror and violence, these protests were needed and they were right. They were meaningful forms of nonviolent civil disobedience and, on a changing political and legal ground, forms of what is supposed to be protected speech!
We call on everyone who values the right to speak critically of the government and to mobilize political protest aimed at stopping the nightmare of the Trump/Pence regime to join in demanding: STOP THE POLITICAL PERSECUTION AND DROP THE CHARGES AGAINST REFUSE FASCISM ACTIVISTS!
We further call on everyone to heed the challenge and example of these courageous activists and join the movement to drive out the fascist Trump/Pence regime regime.
Free the LA 11! Sign the petition Follow the cases and learn how to get involved on Facebook
More details and background on these attacks on Refuse Fascism here